MINI Roadster 1.6 John Cooper Works with Chili Pack, 57.5%
Critics have panned the looks of the MINI Coupé and Roadster, but buyers don't seem to mind them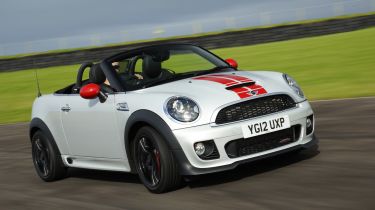 Critics have panned the looks of the MINI Coupé and Roadster, but buyers don't seem to mind them. Both cars hold their value better than the regular MINI hatch and Convertible, and the Roadster has the edge overall, with nearly all versions retaining 50 per cent-plus.
However, to maximise your MINI's residual value, you have to specify the right extras. The firebreathing John Cooper Works flagship retains 57.4 per cent, but you can bump that up to 57.5 per cent if you add the desirable £1,540 Chili Pack. Specify the £1,550 Media Pack, though, and it drops to 56.5 per cent; get both fitted and the value is rounded down to 57 per cent.
Of course, these options increase the purchase price, but it's clear that the kit in the Chili pack – like climate control, a multifunction steering wheel, auto lights and wipers, xenons and more – is in greater demand among buyers than the sat-nav, Bluetooth and a USB connection included in the Media Pack.
No matter what you specify, you'll be getting an engaging front-wheel-drive sports car with punchy 1.6-litre turbo power, responsive steering and super-sharp handling. And while the two-seat MINI Roadster isn't the most practical car, its boot provides much more space than the one in the MINI Convertible.
Price now: £26,330
Value after three years:   £15,140