Mitsubishi Outlander vs rivals
We pit the all-new Mitsubishi Outlander against its seven-seat rivals, the Hyundai Santa Fe and Kia Sorento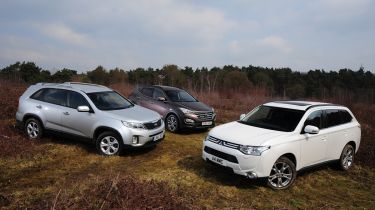 Buyers of SUVs are spoiled for choice. But that means manufacturers are finding it increasingly tough to make an impact in the class. You need something special to stand out from the crowd, and that's exactly what the new Mitsubishi Outlander aims to do.
The previous version offered genuine off-road ability, yet had room for seven inside and a long list of standard kit. This new model delivers the same mix of talents, but promises class-leading efficiency, an upmarket cabin and a sharper on-road driving experience.
For this test, we've lined up two opponents that have a lot in common: the Kia Sorento and Hyundai Santa Fe. The all-new Sorento was launched late last year and, while it looks similar to its predecessor, it shares its 2.2-litre diesel and four-wheel-drive running gear with its Hyundai sister model.
Both cars come well equipped and with room for seven inside, too, so represent a tough challenge for the new Mitsubishi. But which of our trio is the best family friendly buy?
Verdict
This test is a clear demonstration of how far Hyundai and Kia have come in recent years. While the Mitsubishi Outlander is an improvement over its predecessor, it almost seems as if the company has developed it behind closed doors and in isolation, without any reference to what its SUV rivals were doing.
While there's plenty of kit for your money, and it's easily the best car option off-road, the cheap-feeling interior, complicated seat folding mechanism and aftermarket feel of some of the standard equipment make it seem like it's a generation behind its two rivals here. As a result, it finishes third in this test.
Separating the Hyundai and Kia is harder, as they are equally matched for space, practicality and performance. But the Santa Fe just edges the Sorento, largely because it feels like a premium product every time you get behind the wheel.