Beijing Motor Show: Boom or bust?
New car sales continue to soar in China, but can it be sustained?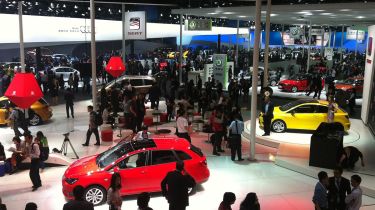 "Either you're in or your out. The winners and losers in this industry will be decided here in China." That's the view of Ralf Speth, CEO of Jaguar Land Rover, speaking at the Beijing Motor Show. And he's a man who should know. One in five cars his company builds in the UK is exported to China, while new JLR dealerships are opening here at the rate of one a week.
You've probably already read something about the Chinese car market's staggering growth, but the figures are worth revisiting. Following double-digit expansion in 2009 and 2010, new car sales in 2011 hit 18.5 million, making China the largest car market in the world. A quarter of those cars sold are built in Europe and just under a third of them in China.
Volkswagen is the top selling brand, with sales of 454,556 vehicles in the first three months of this year. The top selling car so far this year is the Buick Excelle (a rebadged version of the Chevrolet Lacetti hatch) with 76,378 shifted since January. The VW Passat is in fourth, VW Tiguan ninth and the Ford Focus – a favourite in the UK – down in 18th spot.
But what goes up must come down. There are already signs that this level of growth is impossible to maintain. Unlike the booming double-figure growth in 2009 and 2010, 2011 saw only a 2.5 per cent increase in the market. That was partly due to a Government incentive on small cars expiring, and 2012 predictions are rosier, but the signs are clear – the party can't go on forever.
Being here in Beijing has given me a first-hand look at the revolution that's underway, and the price that's being paid, too. Whereas 10 years ago a bike was the perfect tool for getting around, now there's nose to bumper traffic wherever you turn, and the city is expanding at such a rate that bicycles simply don't have the range. Things have got so bad that you need to purchase a registration plate and have confirmation of a parking space before you can buy a new car.
So as the domestic market slows, Chinese manufacturers are inevitably looking to other countries to continue their success, including the UK. So how worried do European manufacturers have to be about the Chinese car makers invading their space? Judging by the domestic-built cars on display (see our gallery here), design and quality is improving, but by European standards there's still a long way to go. Having said that, you only have to consider how far Kia and Hyundai have come in the past 15 years to realise that anything's possible.