GENEVA 2012: Bentley EXP 9 F
Our Bentley EXP 9 F video takes a close-up look at the luxury 4x4 at the Geneva Motor Show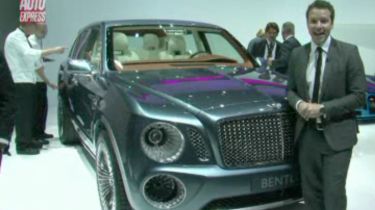 [[{"type":"media","view_mode":"content_narrow","fid":"69669","attributes":{"alt":"","class":"media-image"}}]]
Bentley has joined the luxury 4x4 class with the new EXP 9 F. Bentley claims it's faster than a Porsche Cayenne and more luxurious than a Range Rover, and the EXP 9 F is designed to gauge reaction from potential customers.
Under the show car's bonnet sits Bentley's famous 600bhp W12 engine, although the car will also feature a V8 diesel or six-cylinder plug-in hybrid.
With a price tag of around £140,000, the EXP 9 F will sit at the very top of the lxury 4x4 market and bring new levels of luxury and performance to the class.