Ian Callum designs colouring book sketches for school closure kids
With schools shutting down due to the coronavirus, Ian Callum's design team has come up with boredom-beating Aston Vanquish 25 sketches for colouring in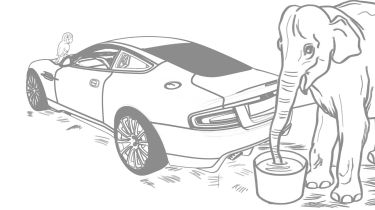 With coronavirus dominating almost every aspect of the media cycle, good-news stories are few and far between. But as UK schools shut down and the country battens down the hatches to fight the virus, Ian Callum's design team has come up with three sketches for kids to colour in and stave off boredom in the first few days of their enforced holidays.
The sketches depict the Aston Martin Vanquish 25 in three situations, the most humorous of which sees an elephant on-hand, helping to keep the car's bodywork gleaming. The drawings come from the design team at the former Jaguar design chief's CALLUM studio, with the artists highlighting that colouring-in can help calm the brain's fear centre, the amygdala. The team is also working on a GT3 colouring-in sketch, which will be released in the near future.
As well as being good for relaxing stressed-out kids and parents, there's an element of competition to the sketches. Sharing the coloured-in drawings with the hashtag #colourwithcallum on social media will see the CALLUM team select their favourites, with prizes being offered for the artists behind the best coloured-in cars.
The Vanquish 25 is the first major design to come out of the CALLUM studio since its head stepped down after 20 years as design director at Jaguar. The man responsible for models such as the Jaguar F-Type, XJ and I-Pace previously worked on the Aston Martin DB7 and penned the original Vanquish, which launched in 2001.
Callum's decision to revisit the Vanquish almost 20 years after its debut sees original examples of the Vanquish S stripped down then rebuilt, with the chassis lowered, and reworked headlights, bumpers and bonnet fitted. The interior, meanwhile, is finished in high-end Bridge of Weir leather, while the 6.0-litre V12 engine is tuned for an extra 65bhp. Just  25 examples the Vanquish 25 will be built, each to individual customers' needs, with prices starting from £450,000.
Would you like to see Ian Callum release more colouring book sketches? Let us know below....