How does Driver Power work?
Each year our Driver Power survey gives owners the chance to tell us about the cars they bought over the last two years. Here we explain how it works...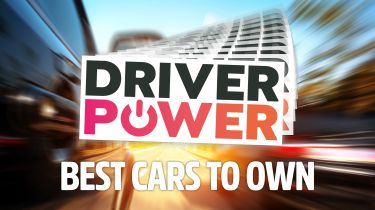 Welcome to Driver Power 2021, and a massive thank you to the thousands of you who took part in the biggest, most respected and comprehensive car ownership survey in the UK.
Each year, thousands of owners report back to us on the cars they bought over the last two years, telling us about how comfortable they are to sit in, to how fast they accelerate, how well they handle, if they can be depended on to start on the button - and much more besides.
Collating all these responses is a mammoth job - there are around 400,000 individual data points to analyse - but that work is undoubtedly worth it, because here we're able to reveal the top 75 cars to own, as voted for by car owners just like you.
• Click here to take our Driver Power survey right now
These results form something of a car-buyer's bible for consumers, who can get the inside line on what life is really like with these models over the course of a typical ownership period. Are their infotainment systems up to snuff? Do they feel responsive when you steer and brake? How much interior storage is there on board, and does their build quality match up to their looks?
You can still take the Driver Power survey and tell us about your car. But we're not just interested in newer cars, there's a used car survey for older models and we want to hear about your experience at the dealership, as well as how you find your car insurance company, and any breakdown firm you might have cover with, too.
Click here to help tell other buyers what they need to know about life with your car, and the wider motoring landscape.
A quick guide to the Driver Power scores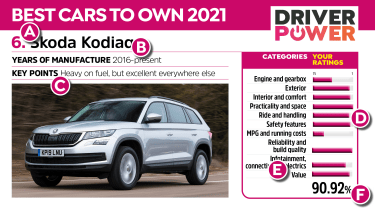 A. This number tells you where the car sits in the Driver Power top 75. If your model isn't listed, look out for our used car survey in September.
B. Here we tell you how long each car has been in production for.
C. We detail the key points on each model.
D. These bars represent a score in each of our 10 judging categories. The longer the bar, the better the car performed in that area.
E. We've expanded our judging categories for 2021. A high score for value shows that a car offers a lot for what you pay for it.
F. We have 10 judging categories, and the percentage is the average of a car's scores. This is its rating, and defines its overall chart position.
Have your say by taking part in the Driver Power survey right here...