Electronic Stability Programme prevents half a million accidents
In the 25 years since ESP was introduced, half a million accidents have been prevented and 15,000 lives have been saved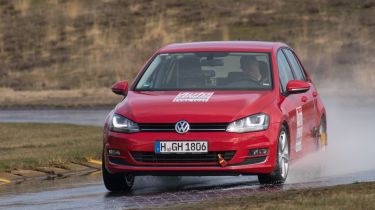 An estimated 15,000 lives have been saved and just under half a million accidents prevented by Electronic Stability Program (ESP), new research has found. 
While mandatory on all models introduced to the market since 2011, and all new cars sold since late 2014, ESP was first fitted to the Mercedes S-Class of 1995. It came to prominence in the 'elk test' of the original 1997 Mercedes A-Class, which tipped over during extreme manoeuvring in its Swedish safety assessments. ESP solved this unwelcome character trait, with the system becoming a standard A-Class feature.
ESP works by detecting where a car's front wheels are pointing, and comparing this information with the direction the car is actually travelling in. If it determines the car is not under proper control, anti-lock brakes can activate on individual wheels, while engine torque is also cut, helping the driver bring things back into line.
Developed by Bosch and Mercedes, over 250 million ESP systems have been built by the former to date, with 82 per cent of all new vehicles being fitted with the system globally. It's estimated up to 80 per cent of all skidding accidents can be prevented by the system, which calculates steering and vehicle angles 25 times a second. 
Bosch board member Harald Kroeger said ESP "has taken road safety to a new level," and represented "a milestone on the path to our 'vision zero' of no more road deaths" - a target shared by various companies and organisations including Transport for London, Volvo and the European Commission. 
Has ESP ever saved you from an accident? Tell us about in the comments section...