Five commemorative McLaren Senna GTRs pay homage to win at 1995 Le Mans 
Each bespoke Senna GTR is painted in a livery to match the five McLaren F1 GTRs which dominated the 1995 Le Mans 24 Hours race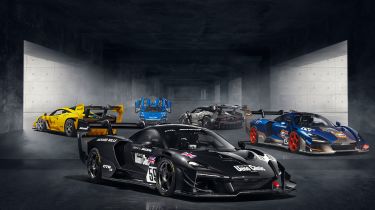 McLaren has built five customer-commissioned variants of the track-only Senna GTR, which pay homage to the five McLaren F1 GTRs that dominated the 1995 Le Mans 24 Hours race. 
The race was won by the black Kokusai Kaihatso Racing GTR of Yannick Dalmas, JJ Lehto and Masanori Sekiya, with four other entries finishing strongly in 3rd, 4th, 5th and 13th – comfortably ahead of their rivals from Ferrari, Porsche and Nissan.
McLaren's five commemorative Senna GTRs have each been finished in a hand-painted livery. Each model wears an authentic replica of one of the famous paint schemes that featured on the racers in McLaren's 1995 F1 GTR Le Mans line-up.
The liveries each took at least 800 hours to apply – and McLaren even had to gain special permission from period sponsors such as Harrods and Gulf Oil, to allow their trademarks to be recreated on these special edition models. The authenticity continues with a faithfully reproduced scrutineering sticker fixed to each car's roof.
Like McLaren's original F1 GTR racers, each unique Senna GTR features a set of five-spoke OZ Racing wheels, gold-painted brake calipers and anodised gold suspension wishbones. Each example also comes with a "One of One" dedication plaque and an etching for its side skirt, detailing the race specs from its F1 GTR twin.
McLaren has also replicated the cabin of its F1 GTR racers as faithfully as possible. Each Senna GTR comes with a pair of carbon fibre race seats, six-point racing harnesses, leather door pull straps and a recreation of the racers' GTR LM steering wheel. The paddle shifters are finished in anodised gold, too, in tribute to the F1's gold-coloured manual gear linkage.
However, these tribute models are more than cosmetic recreations. McLaren has also fettled each car's twin-turbocharged 4.0-litre V8 engine with a freer-flowing Inconel exhaust system, uprated valve springs and hand-polished, CNC ported cylinder heads.
Power and torque figures stand at 833bhp and 800Nm respectively, representing a 20bhp increase over the standard Senna GTR. McLaren has also pushed the engine's rev-limiter closer to 9,000rpm and tweaked its torque curve to deliver more grunt at lower revs.
What do you make of McLaren's new commemorative Senna GTRs? Let us know in the comments section below…