Diesel power dropped from Ford Fiesta supermini line-up
Ford Fiesta diesel powertrains removed, following the launch of the hatchback's new mild-hybrid petrol units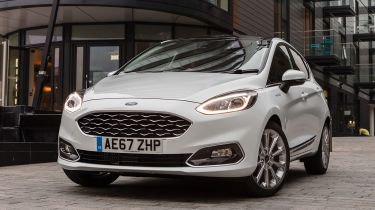 Ford has removed diesel options from the Fiesta line-up, citing dwindling sales figures and shifting consumer attitudes as the main motivators for change.
The Fiesta's 1.5-litre four-cylinder diesel engine only accounted for around two percent of the supermini's sales last year, which works out at around 1,500 of the 70,000 sold in the UK in 2019. This, coupled with the introduction of a new mild-hybrid variant, means it's now surplus to requirements.
Ford remains confident that the Fiesta's newly introduced 1.0-litre three-cylinder mild-hybrid petrol engine will fill the void left by the diesel, offering "three quarters worth" of the engine's economy benefits – complemented by a similar starting price but also more performance.
For now, buyers can still secure a brand-new diesel-powered Fiesta, as Ford is currently clearing its residual stock levels. However, the remaining examples are available on a first-come-first-serve basis, as the diesel is gradually phased out over the coming months. Any new factory orders cannot be placed.
The entry-level, three-door Fiesta Trend can be had with the 123bhp mild-hybrid powertrain for £18,110, which makes it £170 cheaper than the 84bhp 1.5-litre diesel model in the same trim. What's more, Ford's 153bhp mild-hybrid petrol-engined Fiesta Titanium costs exactly the same as the diesel-engined model spec for spec at £20,180.
The two hybrid engines also have claimed fuel economy figures of 57.6mpg and 55.4mpg respectively compared compared the outgoing diesel's 65.7mpg figure.
What do you make of the Fiesta diesel's death? Let us know in the comments section below…