New AC Cobra 378 Superblower launched
Even faster version of the AC Cobra 378 continuation released, powered by a supercharged 6.2-litre V8 engine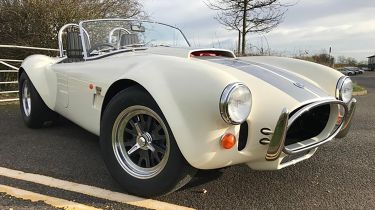 AC launched the reborn Cobra 378 continuation back in 2018 – and now the company has built a more powerful, supercharged variant. It's called the Superblower and it's available to order in the UK now, through Boss Motor Company in Buckinghamshire, with prices starting from £129,500.
Like the standard AC Cobra 378, the Superblower is powered by a 6.2-litre V8 engine – although purists will no doubt be disappointed to hear that the unit was sourced from GM rather than Ford. Power rises from 430bhp to 580bhp thanks to the new supercharger and, like the standard model, power is sent to the rear wheels via a six-speed manual gearbox.
It's bodywork is a faithful recreation of the classic Cobra's – and it's propped up by a remanufactured version of the original car's round-tube ladder frame chassis. AC has also made an attempt to make this continuation model easier to drive, fitting modern multi-link suspension, coil-over shock absorbers and servo assisted disc brakes.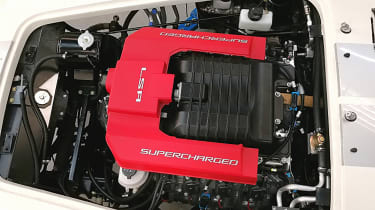 Other modern conveniences include limited-slip differential, front and rear anti-roll bars and an aluminium radiator with an electric cooling fan – all of which should help to manage the extra performance from the new engine.
Standard exterior equipment includes a pair of chrome roll-over hoops and a set of period accurate 16-inch centre lock alloy wheels, while the painted stripes on the pictured car can be added for an extra £1,500. Just in case the driver accidentally gets caught in a storm, AC also supplies a removable hood, a tonneau cover and detachable side screens.
The Superblower's cabin has been upholstered in black leather and features a pair of period-inspired bucket seats, a three-spoke aluminium steering wheel, classic white-on-black gauges and deep pile carpets. Unlike its grandfather, it also gets air conditioning and a demister for the front windscreen.
AC's new Cobra 378 Superblower joins a growing range of reborn Cobra continuation models, which currently includes a 350bhp 2.3-litre option, a standard 6.2-litre V8 variant and a limited edition pure-electric model, with a maximum range of 150 miles.
What do you make of the AC Cobra 378 Superblower? Let us know in the comments section below…