Leapmotor all set to join UK's Chinese car brand influx
Electric car start-up Leapmotor has already sold cars in Europe, with the all-new C10 SUV due to go on sale in 2024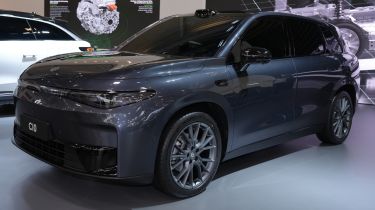 Chinese EV start-up Leapmotor will come to the UK following the arrival of its all-new C10 electric SUV in Europe from next year.
The brand was founded just eight years ago in 2015, but in that time Leapmotor has already developed a range of three cars, comprising its T03 city car, the C01 saloon and the C11 SUV. Unveiling its new C10 SUV at the Munich Motor Show last week, and based on the in-house developed Leap 3.0 architecture, the C10 will spearhead Leapmotor's advance into the European market, with UK sales in the pipeline to follow.
Leapmotor's Leap 3.0 architecture has been developed to a "global standard" according to the brand's senior vice president, Li Cao, with the firm aiming to launch five new products on this platform within the next two years.
The underpinnings feature improved battery packaging thanks to cell-to-chassis 2.0 technology and oil-cooled electric drive units with either 228bhp/320Nm of torque, 268bhp/360Nm or 335bhp/360Nm. Two and four-wheel drive configurations will be available, but the brand has not yet outlined any predicted range information for the new C10.
Leapmotor has already sold its first car on European soil, with sales of the T03 starting in February earlier this year in France. Next year, the C10 will arrive in the region, with UK sales set for some time after 2024 due to the time needed to develop right-hand drive models. Leapmotor also told Auto Express that the brand is currently searching for a suitable distributor in the UK.
The Leap 3.0 platform that underpins the C10 also incorporates a new smart cockpit software stack powered by the latest Qualcomm processors, integrated with the latest semi-autonomous and advanced driver assistance systems.
Leapmotor started sales in 2019, selling 1,000 cars. However, its sales figures rose astronomically to more than 111,000 cars in 2022, highlighting the brand's rapid rise as an automotive start-up brand. 
Can't wait for the C10? These are the best electric SUVs to buy right now...