Self-driving cars given UK green light as 'users' get immunity from prosecution
The UK's Automated Vehicles Bill will put responsibility firmly on manufacturers when/if autonomous technology goes wrong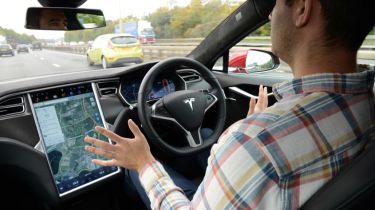 The government is pushing ahead with plans to introduce an Automated Vehicles Bill, which it says will 'unlock a transport revolution' by enabling the safe deployment of self-driving vehicles on British roads.
The Bill announced in the King's speech today in parliament, is said to "put safety and the protection of the user" at the heart of future UK driving law. It will ensure that only the driver - whether that be a human or the vehicle - is accountable for any accidents or injuries, implementing recommendations put forward by the Law Commission following a four-year review. Importantly, the Bill is said to be aimed at protecting users of self-driving vehicles from being held accountable, by giving them immunity from prosecution whenever the self-driving function is active.
On the safety front, it has been estimated by the Institute for Engineering and Technology that for every 10,000 errors made by human drivers, a self-driving vehicle might make just one. In 2021, human error was recorded as a contributory factor in 88 per cent of all collisions. 
The new legislative framework will mean that only vehicles capable of driving themselves safely while following all road traffic rules, without the need for human monitoring or control, will be classified as 'self-driving'. The Department for Transport will get new powers to authorise such vehicles, and to ensure compliance with a new set of safety standards.
As part of the plans companies will be held accountable for any vehicles introduced on the roads, while local authorities will have a new duty to ensure that information is recorded on a central database whenever they set speed limits, close roads or designate parking bays. The government says data will be used to create a digital map of the UK road network to support the operation of self-driving vehicles.
The Bill's announcement has been welcomed by lawyers working in the personal injury field. Joshua Hughes, Head of Complex Injury at Bolt Burdon Kemp, said: "New legislation to support the development of self-driving cars will be welcomed with open arms.
"Previously, there was concern over the grey area that could exist if someone is injured by a driverless vehicle and where it was difficult to prove who was in control at the time of the accident. In the scenario where a manufacturer was found to be liable, an injured claimant could then find themselves bringing a claim under complex product liability law, rather than motor liability. With this Bill, more certainty and confidence will be instilled in the manufactures, insurers and most importantly, road users."
While many drivers remain dubious about the benefits of self-driving technology, the government says developing the technology could be worth £41.7bn to the UK economy by 2035, and support 87,000 jobs. It's likely that the biggest impact will be felt in the logistics and passenger transport sectors, a government briefing paper suggests.
How much is your car worth? Find out with our free valuation tool...