Renault Megane set to go electric and new Range Rover Evoque PHEV driven in this week's Auto Express
In this week's issue of Auto Express we have all the latest on the new Renault Megane and drive the plug-in hybrid Range Rover Evoque P300e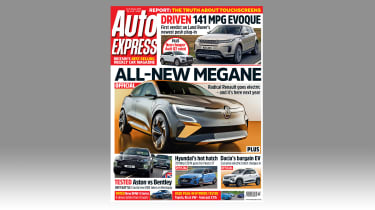 In this week's issue of Auto Express we have all the latest on the new Renault Megane, which looks set to go electric when it officially arrives next year.
We also have the lowdown on Hyundai's second hot hatch – the i20 N has been revealed and it'll take on the Ford Fiesta ST with 201bhp.
Plus, Dacia uncovers its new Spring electric car with a 140-mile range and we reveal the truth about touchscreens.
In the drives section we try out the new BMW 4 Series to see if it drives better than it looks, hit the road in the plug-in hybrid Range Rover Evoque P300e and get behind the wheel of the facelifted Audi Q2.
If that wasn't enough we have a luxury British SUV battle as the new Aston Martin DBX takes on the updated Bentley Bentayga.
Of course, there's also our usual array of long termer tests, product tests and used used as well.
How to buy Auto Express
This week's issue of Auto Express is on sale now for just £3.60. You can find shops near you that stock the magazine by clicking here.
You can also buy individual issues of Auto Express or subscribe for even bigger discounts on the magazine cover price. Click here to subscribe and get 6 issues for just £1.
Print magazine subscription prices
6-issue subscription £1.00
13-issue subscription £22.99
26-issue subscription £45.99
51-issue subscription £91.99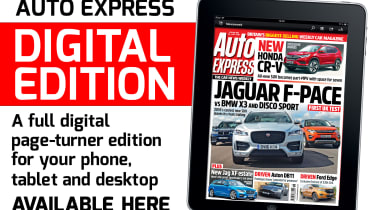 The Auto Express digital edition
Whether it's inside info on the hottest new models, the definitive verdict on the best cars on sale, or the lowdown on the Government's latest transport policy, we provide everything you need for your weekly motoring fix with our digital editions of Auto Express. You can get the digital magazine through the links below...
The Auto Express app gives you the latest issue of the Auto Express print magazine in digital form, perfectly optimised for your iPhone or iPad.
Digital edition subscription prices start from from £1.78 per issue...
3-month subscription £17.99
6-month subscription £35.99
12-month subscription £69.99
Sign up to our e-mail newsletter for all the latest car news FREE in your inbox...