Nissan launches combined PCP finance deal for electric car and charger
The unusual new offer is available on the Nissan Leaf and e-NV200 van – and it includes the cost of installing the wallbox charger at your home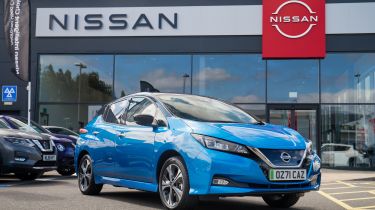 Nissan has launched a one-stop finance deal for its smaller electric vehicles, the Leaf and the e-NV200. The new package covers the cost of the vehicle, a 7kW wallbox and the installation of the charger at your house. It gives buyers everything they need to enter the world of electric car ownership with one simple monthly payment.
As an example, Nissan provided a breakdown of the finance offer on the Leaf 40kWh 150PS Acenta. The 37-month deal works on a PCP basis and requires a deposit of £4,951.48 to open the contract, although Nissan will top that figure up with an extra £500 deposit contribution.
Once you've placed your deposit, you're tied to 36 monthly payments of £225.86. To sweeten the deal, it comes with zero percent representative APR, meaning the total amount you pay for the car is no more than it would have been had you bought it outright.
When you reach the end of your 36-month term, there's also the option to take ownership of the car for a final payment of £13,019.52. It's also worth bearing in mind that there's an 8,000-mile annual mileage restriction on the car while you're bound to the PCP contract.
The electric motor for this particular Leaf has an output of 148bhp, while its 40kWh battery pack allows for a maximum range of 168 miles. When connected to Nissan's 7kW wallbox, it'll take on a full charge in around seven hours.
As well as providing faster charge times, a further benefit of using a 7kW wallbox charger rather than a three-pin plug is that buyers can manage how and when their electric vehicle is charged. For example, you can schedule the wallbox to charge the car overnight, when electricity is cheaper.
Frank Oldfield, Nissan's Energy Services Manager, said: "Wherever possible, we want to try and reduce the complexity for customers new to electric motoring and make their transition to zero emissions motoring as easy as possible."
Nissan's new finance deal is possible thanks in part to the brand's independent partnerships with two of the UK's biggest charging point providers, Pod Point and E.ON, who supply the wallbox chargers for the deal. As an added benefit, buyers can choose between two chargers.
Now click here to read all the latest news on Nissan's newest electric electric vehicle, the Townstar panel van…