Nissan factory moving from England to Scotland?
Scottish business and political leaders urge manufacturer to move north of the border over EU dispute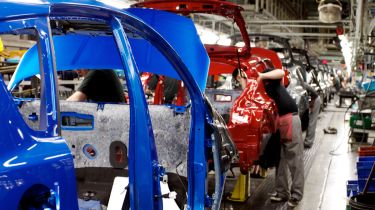 Scottish political and business leaders are urging Nissan to shift its Sunderland factory (where it makes the Qashqai and Juke) a few dozen miles up the road - from North East England to southern Scotland.
The bold and provocative invitation to the Japanese firm comes at a time when Brits are looking increasingly likely to vote in favour of the United Kingdom leaving the European Union in 2017.
The prospect of this possible exit from the EU has riled Nissan's CEO Carlos Ghosn who has said that Nissan would then "reconsider our strategy and investments for the future". If, as the opinion polls suggest, the UK was to leave the EU, and Scotland gains Independence by breaking away from England, Wales and Northern Ireland, the Scots are likely to apply for and get EU membership. Thus the claim that they will be ideally positioned to have Nissan production lines on their soil.
The Scottish Government's Deputy First Minster, Nicola Sturgeon hopes that England's loss could be Scotland's gain:
"The 'will Nissan move to Scotland question' raises a real point," she enthused.
"Honestly, I don't know if Nissan would come under those circumstances [of England being outside and Scotland inside the EU]. But I do know that Scotland is the best performing part of the UK outside London for inward investment," claimed Sturgeon who's also the deputy leader of the ruling SNP.
"Maybe we should be encouraging Nissan to come to Scotland regardless of that scenario."
Ivan McKee from Business for Scotland says it's "great" that serious people are asking serious questions about the possibility of Nissan defecting from south to north of the border. McKee claims he has worked for at least one motor industry giant that moved production facilities a few miles - from outside to inside the EU - and he drops strong hints that Nissan could and should do something similar.
"What international companies [such as Tokyo-based Nissan] do is work very, very hard to ensure they've got manufacturing capability within EU countries," McKee insists.
The fact that the Scottish border is only about 60 miles from Sunderland is something he and other Scottish business leaders and politicians will keep reminding Nissan's decision makers in Japan. If the plant is transferred to Scottish land it's conceivable that at least some of the thousands of workers at Nissan Sunderland would commute to just north of the border on a daily basis.
Johann Lamont, Leader of the Scottish Labour Party and a Member of the Scottish Parliament is a little more cautious, but states:
"There is a general issue about the way in which these very large companies can have huge influence and power simply because of globalisation."
A Nissan spokesman said: "As a global company we always want to ensure that our business has the opportunity to operate as freely as possible in markets around the world. The whole of Europe is a vital market to Nissan and we also recognize how important the UK market is and must remain."