Nissan Leaf battery replacement to cost £4,920
Nissan confirms UK battery pricing for Leaf and e-NV200 owners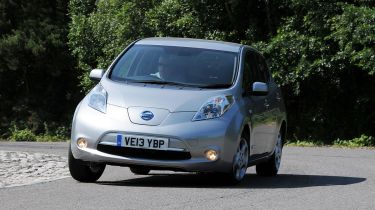 Nissan has introduced a battery replacement scheme for owners of its electric vehicles in the UK. Priced at £4,920, buyers will also receive £1,000 cashback for the their old battery.
The scheme has been introduced to give customers a piece of mind about EVs. All batteries come with a five year, 60,000 mile warranty which covers capacity loss and applies to all Leaf and e-NV200 owners.
"We are extremely confident in the longevity of our battery technology but we are pleased to be able to provide further assurances to the growing community of Leaf drivers in the UK and dispel myths around battery pricing," said Paul O'Neill, EV Manager at Nissan.
"Nissan expects that the majority of Leaf drivers will never need to replace their battery, and the fact that we have only replaced three batteries out of 30,000 Leafs sold across Europe since launch, certainly supports this."
The announcement follows a £420 million investment in Nissan's Sunderland plant which produces the Qashqai, Juke and Leaf. An on site plant also began to produce lithium-ion batteries in 2013 and employs more than 200 engineers and technicians. .