Nissan: remote parking next for autonomous cars
Nissan is planning self-parking tech for future models - you'll be able to use a smartphone to park your car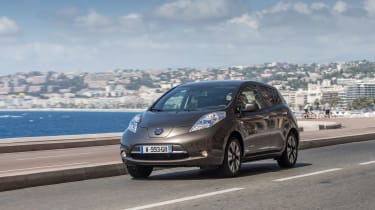 The next step for Nissan's Autonomous Driving division will include smartphone-operated remote parking, according to the brand's General Manager for Advanced Driver Assist Systems and Strategy, Tetsuya Iijima.
Speaking to Auto Express at the Tokyo Motor Show, the autonomous driving engineer highlighted the development path for Nissan's future self-driving prototypes and cars, with functionality that will allow vehicles to find they're own parking bay a key highlight.
"Remote parking using smartphones will be very important in the future," believes Iijima. "We want a system that allows drivers to select a parking space on their smartphone and tell their car to go and park there.
"The car will be able to find its own space, but the user can select their prefered bay using a display on their smartphone or tablet's screen. It will be a key part of Nissan's autonomous vehicles in the future."
Iijima also added this could combine with wireless charging capability in the future, as well as a potential 'call' button that will bring self-driving cars from a space to the car park exit when the user wants to leave – so you won't have to find your vehicle in a crowded multi-storey and it'll boast maximum charge on your return journey.
Nissan has laid the foundations for this technology with its Leaf Intelligent Driving prototype and previewed the next step for fully autonomous cars with its IDS electric vehicle concept revealed at the 2015 Tokyo Motor Show.
However, before we'll be able to control cars remotely, Iijima says his team needs to "improve the system's algorithms to pick up and process information faster."
Would you trust a self-parking car? Let us know below...