Nissan's e-NV200 electric MPV gets seven seats
Nissan reveals even more versatile e-NV200 with third row of seats, on sale in July priced from £19,895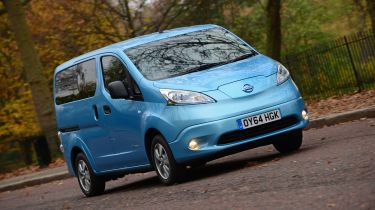 Nissan launched its e-NV200 electric van-based people carrier last year, but it now aims for a bigger market with this new seven-seat version. On sale this July from £19,895 under a battery leasing deal, it's also available to purchase outright from £23,400. Both prices include the Government electric car grant.
The standard five-seat e-NV200 was already a pretty niche vehicle, but Nissan is claiming this new version is the world's first electric seven-seat people carrier. The firm is certain that the extra two chairs will significantly broaden the vehicle's appeal to fleets, as well as city-based minibus and private hire outfits.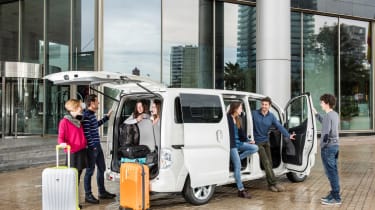 The commercial origins of the NV200 mean that those rear chairs offer, Nissan claims, ample space for two extra adults and all their luggage. Indeed the bootspace is quoted at 870 litres with them in place, but they can be folded and stowed at the side of the boot area. With the second row seats removed, a huge 2,940-litre loadspace is possible.
The rest of the e-NV200 remains mechanically unchanged over the five-seat version, with a Leaf-based electric powertrain offering 108bhp, a top speed of 76mph and a theoretical range of 106 miles on a charge. The only other range tweak is the option of a new fully-loaded 'Evalia' version, starting at £21,590 (£26,595 if bought outright).
Check out our top 10 list of the best electric cars on sale now...