Nissan Juke Nismo vs Hyundai Veloster Turbo
We test the bold Nissan Juke Nismo against the Hyundai Veloster Turbo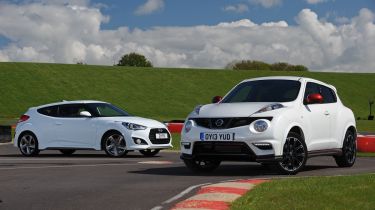 A few years ago, if you wanted performance in a small but practical package, a hot hatchback was just the ticket. Today, that's not your only option; as car makers create ever more niche products, you can get your driving thrills in all kinds of shapes.
The latest arrival is the Nissan Juke Nismo. The quirky small crossover has proven a hit with buyers in standard form, and now Nissan's performance division has worked its magic on the car, in terms of looks and ability. The five-door is powered by a 197bhp 1.6-litre turbo, while sporty add-ons inside and out give it a racy edge.
Another car that combines practicality with a performance package is the Hyundai Veloster. While the flagship Turbo SE tested here isn't quite as powerful as the Nissan, a wider and lower stance should help it in corners. It's not a full five-door like the Juke, but has a single rear door to boost versatility. So which of our quirky duo makes more sense as a fun but practical sports car?
Verdict
These cars are intriguing alternatives for buyers who don't want to go with the hot hatch norm. However, while both are sporty enough to stand out from their respective ranges, they don't quite set the world alight when compared to traditional pocket rockets like the Ford Fiesta ST or Peugeot 208 GTi.
The Hyundai Veloster Turbo has an edge over the Nissan thanks to its tidy handling and added practicality, but those looks are an acquired taste. Also, the engine's linear, muted power delivery means you don't get the rush of excitement that marks out a great performance car.
The Juke Nismo's driving experience is compromised, the ride is firm and there's less space inside than in the Veloster, but it has enough sporty touches to cancel out these disadvantages. Its exterior updates aren't overdone, while the suede-effect trim on the steering wheel and upholstery gives the Juke a premium feel that the Hyundai can't come close to matching.
Add in performance and running costs that are similar to or slightly better than the Veloster Turbo's, and the Juke Nismo pulls out a slight advantage over its rival here. The Nissan then tops this off with a list price that's £1,725 cheaper than the Hyundai's. As a result, it takes a narrow victory in this test.