Nissan Juke 2014 appears at Geneva
New facelifted Nissan Juke crossover makes its debut at the 2014 Geneva Motor Show
The Nissan Juke has spawned a host of copycats, but the crossover has been given a mid-life makeover to keep it at the top of the pile.
In fact, Nissan has made so many changes – from fresh styling and greater personalisation options to a new engine and transmission – that it's called the facelifted car, seen at the Geneva Motor Show, the 'New Juke'. The car is due on sale in June.
Nissan asked customers to name areas of the Juke they thought could be improved, and they said: the small boot, lack of a glass sunroof and the CVT auto box. So it set to work on fixing them.
The boot has been redesigned to free up an extra 100 litres of space. Capacity is still unconfirmed, but that should give a figure of 350 litres – almost as big as a VW Golf's. It's got a clever split floor, too, but four-wheel-drive Jukes will still have a smaller boot than two-wheel-drive cars.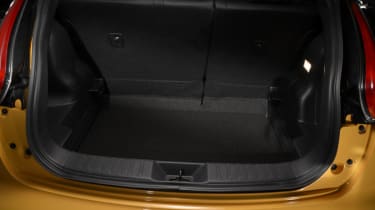 The options list also includes a sunroof, which extends the glass up and back along the roof so it doesn't eat into headroom for rear passengers.
There's a new 113bhp 1.2-litre turbo petrol engine, hooked up to a six-speed manual gearbox. The 1.6 DiG-T petrol and 1.5 dCi diesel engines are carried over, but the introduction of stop-start means CO2 emissions have dropped as low as 104g/km for the dCi. The new 1.2-litre petrol will emit around 126g/km – down from 139g/km – while the 187bhp 1.6 DiG-T now emits just 139g/km, which is a 20g/km improvement.
If you want an auto, you'll have to stick with the old 1.6 – which will no longer be available with a manual transmission – or go for the four-wheel-drive 1.6 DiG-T CVT.
European design boss Taisuke Nakamura has said that keeping the "Jukeness" intact was Nissan's priority with the styling changes. The lights have been tweaked and a new front bumper added, while the visual updates are rounded off by a smart gloss black grille and new 18-inch alloys with customisable inserts. But buyers can now choose between three levels of personalisation.
An exterior pack brings contrasting colour mirror caps, bumpers and side sills, while an interior pack adds colour to the centre console, gearknob, air vents and armrests. The touchscreen has had a software update, plus full leather seats with coloured stripes are an option, as is a 360-degree parking view camera. Also available is a Safety Shield system, including blind-spot monitoring and lane-keep assist.
The updated Juke is set to go on sale in June, with Nissan expecting between 40,000 and 50,000 cars a year to find homes in the UK market alone.