Nissan Leaf to get sharp new look and range boost
Exclusive images show better look for new Nissan Leaf, while new battery tech boosts range to 186 miles
Nissan is hard at work developing the next-generation Leaf, focusing on improving the range with new battery tech and – as our exclusive images show – a more conventional look. The new car is expected to be on sale late in 2016, with prices starting around £17,000.
Clearly, the introduction of Tesla's Model S – and its claimed 312-mile range – has changed the electric car market, making the current Leaf's real-world range of 85 miles seem a bit old-hat. 
Nissan bosses are promising new battery technology is on the way, with better energy density for a more usable pure electric vehicle. A figure of about 186 miles is likely to be the target. 
There's a good chance Nissan will offer smaller battery packs with less range, like Tesla does with its 60kWh and 85kWh packs. The new battery technology and motor will be shared with Nissan's luxury brand, Infiniti, too. 
The premium brand has already made steps towards developing an all-electric saloon – at April's New York Motor Show, it unveiled the LE concept, which used the current Leaf's underpinnings. This new model is now thought to be on track for a release in mid-2016.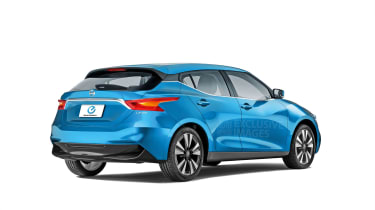 It also seems that Nissan's designers have realised that an electric car doesn't need to look unusual, as they're targeting a more conventional style. 
Our images give you a good idea of how it's shaping up, with bosses keen that the large chrome 'V' in the grille and the blacked out pillars become recognisable design features of the next generation of Nissan cars. The angular lights and creased bodywork are developed from the brand's latest concept cars, including the Friend ME.
However, a more usable range and fresh styling can only go so far towards boosting the Leaf's sales appeal; a much improved charging infrastructure will play a key role, too.
To that end, Tesla's new range of Supercharger stations – promising 30-minute fast charges to all EVs – will help, as the network should have the majority of the UK covered by next year. Tesla boss Elon Musk has said he'll let other manufacturers use it, so long as they keep charging free for their customers.
Nissan's chief planning officer, Andy Palmer, has previously told us the new battery technology should debut by 2017, so we expect to see the Leaf and the Infiniti EV debut in 2016. Providing the £5,000 Government grant for low-emissions vehicles remains in place, prices should start at around £17,000.
Read about our top 10 best electric cars here.