Nissan Qashqai
£239 per month with a £4,234.48 deposit (4.9 per cent APR)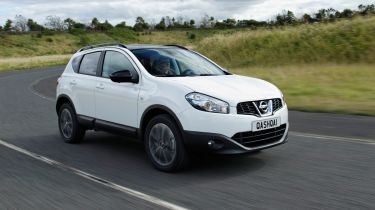 Buy a two-wheel drive Nissan Qashqai 360 1.6 on a PCP scheme and the Japanese firm will contribute £1,7500 to the deposit. That leaves a deposit of £4,234.48 to pay plus monthly payments of £239 over a 37-month contract and an optional final payment of £4,234.48.
The crossover comes with dual zone climate control air-conditioning, a panoramic glass roof, Nissan Connect sat-nav system with CD player, Bluetooth and USB port, rain sensing wipers and ESP.
It also feature 18-inch "Onyx" alloy wheels and a gloss black exterior. Plus a 360-degree Around View Monitor parking system.