Nissan X-Trail video review
The new Nissan X-Trail is good looking and well equipped, but is it too sensible?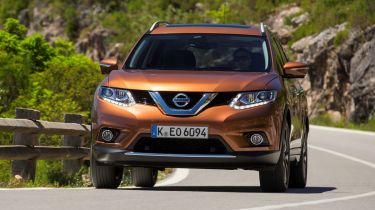 With its less boxy, more curvaceous styling and a stack of new tech on board, it's clear Nissan has got one objective for this all-new X-Trail.
Can it possibly emulate the success of the smaller Qashqai crossover, but as a bigger, more versatile and more expensive package?
This third-generation X-Trail sits on an all-new platform Nissan has co-developed with its alliance partner Renault. The wheelbase is longer and the tracks are wider to improve interior space, and to give the X-Trail more mature handling.
You wouldn't exactly call it beautiful, but it has a smarter, more sharp-suited design than before, which buyers can jazz up with optional all LED headlights, 19-inch wheels and the biggest glass roof of any family SUV.
Inside the X-Trail, its expanded platform pays dividends as Nissan claims it to offer the best legroom in its class. Buyers can specify a seven-seat layout as a £700 option, and it's possible to slide the seats depending on whether tall passengers or lots of luggage are on board.
In terms of driving, don't expect the X-Trail to get the heart racing with an amazing experience behind the wheel. Nissan has done everything it can to make this car as easy to drive as possible, so there's Active Trace Control to trim your line through the corners, and there's an active suspension system where the car comes on and off the throttle in order to prevent lurching over speed bumps.
As for the controls Nissan has gone for lightness and ease of use over any real feedback. But that's probably the right decision given this car's intended buyer.
The only engine option (until 2015) is a 1.6-litre diesel. Surely that's downsizing gone mad, but the X-Trail does just about get away with it. This 1.6 has just as much torque (320Nm) as the old 2.0-litre diesel X-Trail.
However, it's cleaner, more efficient and that torque is on hand from lower down from 1,750rpm so it's fine getting away from the lights.
From the first moment you see the new Nissan X-Trail, it's clear it's turned from a rugged, utilitarian 4x4, into a much more stylish crossover.
Okay, it's probably lost a little bit of character along the way and that's something that its ordinary driving experience can't inject back in. But on the other hand, it's a comfortable, well-equipped and keenly priced family crossover.
For every customer it probably puts off with its play-it-safe attitude, the new X-Trail is probably going to win two, three or more new families just because of its more crowd pleasing direction.