"BMW has mastered the art of provoking a reaction"
While the BMW iX shows what a car with a £100k price tag can offer, deputy editor John McIlroy thinks the new Nissan Qashqai still promises plenty for those paying much less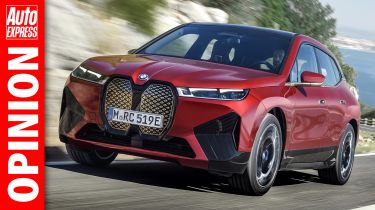 It was Oscar Wilde who came up with the old adage, "There is only one thing worse than being talked about, and that is not being talked about". You have to imagine that the BMW design team has been quoting him heavily in recent weeks – first, after the debut of the controversial 4 Series, and now with the reveal of the company's new flagship EV, the iX.
The 4 Series Coupé's front end split opinion, but the furore on social media about the styling of the all-electric SUV suggests that BMW has at the very least mastered the art of provoking a reaction with its new creations.
Appearances aside, the iX looks a technical tour de force on paper, with levels of computing power previously unseen on a BMW, a 100kWh-plus battery that promises more than 370 miles of range, and up to 200kW of fast charging to replenish it in double-quick time.
News this week also contains reassurance for those who don't want their cars to look like something from Battlestar Galactica. It comes in the shape of the next Nissan Qashqai, previewed in 'official' spy pictures and stripped bare of its disguise in our exclusive images.
While the iX is proof of the freedom that a price tag north of £100,000 can bring, the Qashqai has to deliver improvements to customers used to paying less than £300 a month for their car. Based on the breakdown of its features, it looks promising. There's a new platform designed to offer greater comfort, and while diesel has gone, a mix of mild-hybrid and the new e-Power hybrid should be affordable enough to nudge thousands of us further along the road to electrification (without the need for a plug socket).
As if all of that weren't enough, the Qashqai will continue to be built in the UK. So while the iX is a look into the bleeding-edge future, the new Qashqai is a very real proposition. And an important one at that.
What do you think of the new BMW iX? Let us know in the comments section...