'Tesla's dominance is no longer a given'
Deputy editor John McIlroy mulls over the Ford Mustang Mach-E's shock win over the Tesla Model 3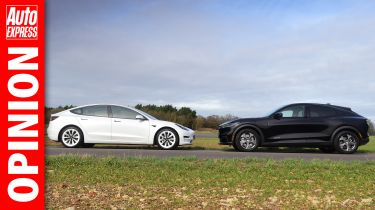 It's not exactly normal practice to blurt out the result of the week's test on the front cover of Auto Express – but in the case of the result this week, we're prepared to make an exception.
Because it really does feel significant that Ford, with its first bespoke pure-electric car, has managed to beat the latest version of the Tesla Model 3. The Californian EV has been a class benchmark pretty much since the day it was launched; it was, remember, the winner of the Auto Express Car of the Year gong back in 2019.
And yet, the new Mustang Mach-E manages to overcome the odds to squeak a narrow victory. It's a little cheaper on list price, yes – but it's also better finished inside and has in-car tech to match the glorious simplicity of the Model 3. 
Moreover, on UK roads at least, we're delighted to report that this Mach-E offers a classic Ford combo of ride and agility that makes it more engaging to drive. It is, right now, the best EV you can buy for around £40,000.
The Model 3 hasn't become a bad car overnight – far from it. Indeed, many will cite Tesla's industry-leading Supercharger network as reason alone to plump for it over the Ford, and we'd find it hard to argue with that. But this week's comparison shows just how competitive this area of the market is becoming, as more big brands enter the arena seemingly every month.
And it's unlikely to stop with Ford. By the end of this year there should be Audi's Q4 e-tron, along with Volvo's new C40, presumably with a more modest powertrain and a lower price. Plus the likes of the Ioniq 5, demand for which overwhelmed Hyundai's website when it opened for reservations last week. 
Over the past few years, it's fair to say that Tesla has enjoyed a frankly unrivalled status with its mixture of price, tech and performance. This week's test is official notice that this dominance is no longer a given. 
Check out our list of the best electric cars to buy now...