'The BMW M3 and Alfa Giulia Quadrifoglio are state of the art, yet in some ways they're also dinosaurs'
Deputy editor John McIlroy thinks we should celebrate combustion engines before they die out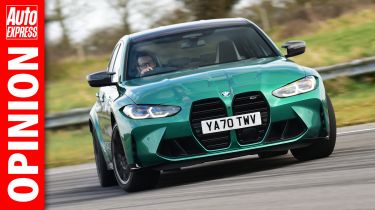 Auto Express readers are clearly aware of the process of electrification that all car companies are going through at the moment. Our inbox is split between those of you who want as much detail and clarification on EVs as possible, and plenty of folk who'd rather we focus on the efforts to extract every last bit of time and performance from combustion engines.
Rest assured, this contrast is not lost on us; we love cars, after all. And that's why we get slightly misty-eyed when putting together tests like this week's front cover story: two rear-wheel-drive super-saloons (including one carrying the legendary M3 badge) with a combined output of more than 1,000bhp from a couple of turbocharged six-cylinder petrol engines.
We're not about to give out any spoilers here on the result, collated from a mixture of road and racetrack tests. But combine the fact that this is the newly launched BMW M3 with a normal seven-year model cycle and you can start to understand the potential significance of the test in general. It's clear that we are in a period now where fabulous cars that have thrilled us all for decades are perhaps entering their final incarnation, at least in a recognisable form. The M3 and its Alfa Giulia Quadrifoglio rival are state of the art. And yet, in some ways, they're also dinosaurs.
It's not easy to admit this, but CO2 fleet targets, government incentives and penalties, and just plain old customer demand make it hard to judge how many more tests of this ilk lie ahead between now and the UK's ban on pure-combustion-engined vehicles from 2030.
There will be thrilling cars in the years to come; we're convinced of it. But we should also feel free to celebrate and enjoy what may ultimately be declared 'peak combustion engine'. And, in the case of this week's test, those motors are installed in cars that you can carry the family in and drive every day – a fantastic achievement.
Check out the best sports cars you can buy right now...