'From now on I'll be looking at Euro NCAP's scores closely'
Mike Rutherford questions new changes brought in to Euro NCAP testing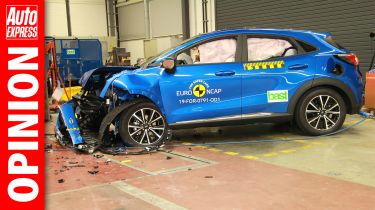 I always believed that the European New Car Assessment Programme (Euro NCAP) had its heart in the right place, meant well, tried to do things fair and square. Since 1996 it has been naming the cars it considers to be safest and least safe. And for that guidance, we should be grateful.
But I fear the outfit, which is formally backed by the UK and other Governments, may be losing the plot. From its HQ in Belgium, Euro NCAP says that it has lately altered the way it evaluates and scores the cars it focuses on. Crash awareness, prevention and protection are changing hugely, as is on-board safety kit. Legislation is going through enormous change, too. Euro NCAP attempts to keep up with all this, but seems to be struggling as it tries to judge the real-world relevance of such changes and how to factor them into its five-star rating system that can make or break the appeal and sales of new models.
"The meaning of the stars" has been "significantly altered" recently, it says. Put another way, it has unhelpfully and confusingly shifted the goalposts. Like-for-like comparisons of star ratings for new cars in the late 2010s and new cars in the early 2020s are near impossible as a result. In years past it was comparatively easy for a modest supermini to receive a maximum five-star rating. Today, not only does occupant safety have to be excellent, a car also requires no end of electronic safety features.
Euro NCAP gave plenty of five-star ratings to models such as the Ford Fiesta in the 2000s and 2010s. But in 2021 the surprisingly well equipped and credible Dacia Sandero has been awarded two stars. So on the face of it, old Fiestas from decades past are more than twice as safe as Sanderos of today. Really? I don't think so (we'll find out for sure next week).
Another problem I have with Euro NCAP is that three of the six new cars it has rated so far this year have been VW Group models, two were Dacias, the remaining one a Polestar. Why such a tiny, narrow and unlikely bunch? How come there aren't six (or more) cars from six (or more) giant and completely separate manufacturing groups?
Also, why give five-star ratings to four of those six cars (the Volkswagen ID.4, Skoda Enyaq, Cupra Formentor and Polestar 2) when they each scored an average of only 80-something per cent in the four key assessment areas – adult occupant protection; child occupant protection; pedestrian/cyclist protection; and safety assistance technology? More importantly, why dump those meagre two-star ratings on the remaining pair of cars (Dacia Sandero and Dacia Logan) when each scored an average of almost 60 per cent?
With the above percentages in mind, how come Euro NCAP didn't do the logical thing of awarding the VW, Skoda, Cupra and Polestar four stars, then each Dacia three stars? "It's a bit more complex than that," a spokesperson assured me. Why? Because scores are "weighted" – meaning they can be marked up (or down) depending on what Euro NCAP's latest lengthy and complex "assessment protocol" rules and regs say. From now on I'll be looking at Euro NCAP's views and scores on the safest cars closely. And I suggest you do the same.
Which are the best cars for safety features? Find out here...