'DS is some way off BMW, Audi and Mercedes - but it has some clever plans'
Steve Fowler says the whole brand experience is key to forging a premium car company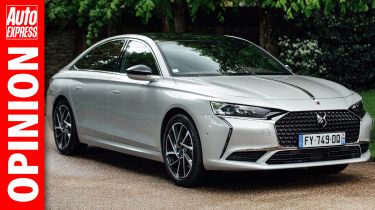 Watch out Audi, BMW and Mercedes, here comes... well, this week it's DS. In a couple of weeks it'll be Genesis, and we can guarantee it won't be long before someone else is chasing the premium pack.
The posh German brands have been targets for many over the years, from Saab to Infiniti (not so successful) to Volvo and Lexus, not to mention the UK's own Jaguar. And who can blame the world's car makers, with bigger margins at stake when you've convinced buyers that the badge on the bonnet means you can charge a bit more.
This week I've driven the new DS 9 and it's an impressive car. DS – and it's parent company Stellantis – knows this is a long game, not only in terms of developing properly premium products, but also when it comes to brand acceptance by premium buyers.
So DS being on par with Audi, BMW and Mercedes is still some way off in terms of product and brand, but what the company is trying to do is shake up the buying and owning experience, with some clever plans.
However, I'm not sure its strategy around retailers is right. I recently visited the new DS store in West London – an impressive showroom, but one that's sandwiched between its Stellantis sisters, Citroen and Peugeot. 
I think a standalone solution – or even a totally online experience with home or office visits and 'brand centres' in posh shopping centres – is better for a premium brand. It didn't take Lexus long to realise that its showrooms shouldn't be right next door to a Toyota dealer, while Genesis has no plans to share ground space with Hyundai.
To get close to the big three German brands, the likes of DS and Genesis first have to match Lexus, Volvo and Jaguar. There's certainly an appetite amongst buyers to try something different, especially with the change that electrification will bring. But the whole brand experience is key to who the premium winners and losers will be.