'The 2030 combustion engine ban is just around the corner – and we're running out of time'
Andy Palmer sees electric car uptake revving-up in the UK but says targeted investment is needed to prevent a stall…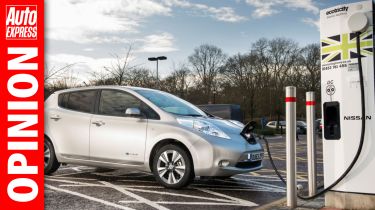 We now have less than nine years until 2030, when the UK is set to ban the sale of new combustion engine vehicles. That's roughly the time it takes to watch around 63,000 episodes of Great British Bake Off, host two football World Cups, vote in barely two General Elections and see at least one new US President take office. In other words, it really isn't that far away.
In my last column for Auto Express, I spoke about the need to explore alternatives to electric vehicles. We also have to take a pragmatic approach and understand that, for now, EVs are overwhelmingly the consumer's favoured option when it comes to cleaner, greener motoring.
Perhaps as a result of that looming deadline, and despite a worldwide pandemic and multiple, country-wide lockdowns in the UK, new registrations of electric cars grew by 66% in 2020 compared to the previous year. A figure made all the more impressive considering citizens were heavily restricted on where they could actually travel!
Sales in 2021 do not appear to be slowing down either. March saw 39,333 registrations of cars with plugs; of that, 22,003 were battery electric vehicles and 17,330 plug-in hybrid models. As someone who pioneered the first real mass-market electric vehicle, the Nissan Leaf, I welcome this increasing trend towards cleaner, greener vehicles. Yet, these developments prompt a critical question; does the UK have the infrastructure to be able to support the influx of electric cars that will be hitting the roads over the coming years towards 2030?
Levelling up
According to the government's own figures, there are only 27 charging points per 100,000 people throughout the UK. Unsurprisingly, the areas with the best EV charging coverage are in the South. The Yorkshire and Humber region only has 17 charging points per 100,000 people. London has three times that. Ahead of 2030, the government must urgently address this imbalance as part of their 'levelling up' agenda.
But not only does the UK need more EV chargers – it also needs faster ones. As of April 2021, just 904 points offer an ultra-rapid charge, 3,430 provide rapid charges, 13,320 are fast, and 5,509 are slow. Granted, the number of public stations might have increased by over 200% in the past five years, but it is the growth of slow chargers that leaves me underwhelmed with this headline figure.
Standardised charging
Unfortunately, the UK isn't the only nation facing obstacles with getting EV infrastructure in place. On top of slow charging and poor coverage, one of the biggest issues facing the global market is the lack of standardisation for charging plugs. In short, depending on the source of origin of the car, there are different chargers, just like for mobile phones. There is no standardised adapter that allows motorists to plug into any station they choose. Ahead of the switch to EVs, governments face the daunting prospect of forcing a significant behaviour change on consumers who have become accustomed to combustion engine vehicles for so long. In order to be successful, motorists must be convinced that an electric vehicle is right for them and that the transition from a combustion engine to electric will be seamless. Addressing the lack of standardisation for charging connections would go a long way to making that argument; make it an homologation standard to sell cars in the UK.
In the nascent years of electric vehicles, there was a moment in time when a universal charger existed. Mitsubishi, GM, Kia, Nissan, Renault and several other manufacturers agreed upon a connector. This connector recognised when a cable was connected and allowed the charging rate to be chosen, so the electric vehicle would not overload. Once it was full, the power would switch off, and when the handle was disconnected, charging stopped immediately.
Frustratingly, this solution wasn't favoured in Europe. So, the German automakers settled on a new connector. In order to move forward smoothly, a universal charging adapter needs to be agreed upon by all car manufacturers. Adoption of electric vehicles is going to be painful and tiresome if motorists are limited by what public charging stations they can use and confused by which ones are compatible with their car.
Charging speeds
There's also the issue of 'practicality at the pump'. Traditional petrol stations are able to serve tens of cars at once, yet the majority of public charging points can only handle two vehicles at a time. It takes less than a few minutes to fill up a car with fuel. Whereas to get a decent charge in an electric vehicle, you could be waiting for over an hour. Not ideal in a world where time is increasingly the most valuable asset at our disposal.
Current infrastructure, coupled with increased demand for electric vehicles, would see huge lines of cars waiting for a charge at the station if every one of them needs thirty minutes to an hour each; scenes will be reminiscent of a perpetual fuel shortage. Fortunately, some manufacturers have begun investing in 800V battery systems that can increase charging speeds, as well as reduce the weight of the vehicle so they can retain more energy and travel further. Porsche is just one of the carmakers that have started utilising this enhanced battery design and claim that their Taycan sports vehicle is able to travel up to 260 miles between charges – a much more attractive proposition for those who are reluctant to give up to the convenience of a traditional combustion engine vehicle.
These results mean the 800V architecture does not just require investment from car manufacturers, it would also need the UK government to approve the rollout of public charging stations that can support these vehicles. It won't be cheap, and it won't be easy, but it's a necessity as we move towards both a clean and convenient future. Given the lack of investment in charging points up to now, perhaps the North of England would be an excellent place to start rolling out 800V chargers?
Despite the merits of multiple alternatives, EVs are clearly the popular choice for consumers and as we approach 2030, sales of electric vehicles in the UK are only going to intensify. While this is encouraging news for cleaner air quality, public sentiment towards EVs can and will quickly begin to decelerate if these crucial infrastructure issues are not addressed – and quickly.
I'm optimistic about the future of motoring in the UK. We're in pole position to lead the world in developing and delivering multiple clean alternatives to the traditional combustion engine that will quite literally power the next generation. The consumer demand is in place, the industry innovation is underway, the only missing link is the buy-in and support for public infrastructure.
Combined, the absence of a standardised plug, the lack of charging points in the North and the slow speeds of charging should flash as bright and red warning lights on the government's dashboard as 2030 closes in. The clock is ticking.
Do you think the UK will be ready fr the 2030 ban on the sale of new cars with petrol or diesel engines? Are you making the switch to electric? Let us know in the comments...