'The Hyundai Ioniq 5 makes electric cars easier to accept and enjoy'
Editor-in-chief Steve Fowler reveals five things that we've learnt from our 2021 New Car Awards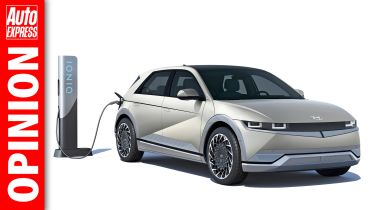 As the car industry – and, just as importantly, car buyers and owners – continue to go through more change and face more challenges than we could ever have imagined, how we judge our annual Awards has also been overhauled. It's happened with one thing in mind: what the people who will live with (and hopefully love) our winners want and need from their cars.
So what have we learnt this year? Firstly, the EV has come of age. The Hyundai Ioniq 5 will travel the best part of 300 miles on a charge, then be 'refuelled' from 10 to 80 per cent 'full' in just 18 minutes. Whether we like the idea of electric cars or not (and plenty still don't), cars like the Ioniq 5 make them easier to accept and enjoy.
Secondly, car design is in a great place with plenty of originality, flair and clever features that all combine to make new cars more appealing than ever.
Then there's the shift from the traditional body shapes (bye, bye Mondeo from next year) to SUVs and now towards crossovers. It's what customers want – and who are we, or the industry, to argue with that?
Plus, make a car that appeals to drivers and you'll still reap the benefits – in sales and at our Awards. Witness the incredible Toyota GR Yaris, Hyundai i20 N, Alpine A110 and even Bentley's Flying Spur – all will make you smile.
Finally, the company car is still very much a thing – especially with the tax incentives on offer if you choose one that's a full EV or a hybrid. The same applies in the increasingly important van world, where we've added an Electric Van Award for this year.
One final point: the car industry is nothing without the people within it. And this year we welcome two greats into the Auto Express Hall of Fame. Adrian Hallmark, Bentley CEO, topped our annual Brit List recently, so joins the hallowed hall. As does the late Richard Parry-Jones, a man whose influence can be seen in many of our Award winners and whom we all sorely miss.
Click here to read our review of the Hyundai Ioniq 5...