"The unthinkable is happening: used cars are going up in value"
With the semi-conductor crisis driving up the value of used cars, editor-in-chief Steve Fowler thinks it's a good time to part exchange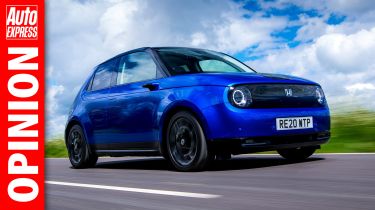 The shortage of semiconductors is still causing havoc in the new car market, with certain companies quoting delivery some time next year for cars that would normally take just a few weeks to turn up.
The shortage of new cars is meaning eager buyers – of which there are many – are turning to the used market instead. But the combination of high demand and fewer part-exchanges landing on forecourts over the past year due to Covid-19 means there's a shortage of good-quality used cars, too. As a result the unthinkable is happening: used cars are actually going up in value.
There are pockets of new car supply if you know where to shop – and your local Honda dealer could be a good place to start. Speaking to Honda UK MD Jean-Marc Streng, I asked him how the semiconductor crisis is affecting his business. "Not so much," he told me. "We secured good supply last year."
I'm not saying Streng has a crystal ball, but by ordering stock last year for sale this year, Honda now has access to around 9,000 brand-new cars, like the fabulous Honda e. Streng – and his company's dealers – are in a good place.
That's not to say Honda dealers – and others with stock – aren't keen to offer top dollar for your part-ex. With used car values still rising and new car prices not going up (yet), the cost to change is lower than it will have been for a while. Throw in finance that's cheap to buy, and the deals on offer are hard to turn down.
So where else is there stock? If you're ready to jump into electrification, it seems car makers are prioritising building electric cars that will lower their average CO2 figure if they're sold, reducing the risk of EU fines.
For example, one dealer I visited recently had a row of Auto Express Award-winning Volkswagen ID.3s on its forecourt ready for delivery. I'm sorely tempted to jump out of my own finance deal early to take advantage.
Check out the best new car deals available now...