'Not everyone can or wants to go fully electric just yet'
Steve Fowler highlights the importance hybrids have in the switch to fully electric cars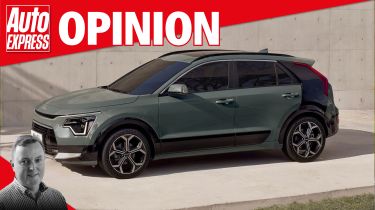 We're big fans of the Kia Niro – the car that really started to position the Korean brand as a major player in the fast-growing world of electric cars. 
The new model looks set to continue the good work of its predecessor by giving buyers the opportunity to taste electrification without having to go the whole hog; it'll be available as a hybrid, plug-in hybrid or a full EV. I'm not sure that contrasting rear panel does it any favours, though.
What is clear is that not everyone can or wants to go fully electric just yet, in spite of the proliferation of EVs from every major manufacturer. And hybrids do their bit to lower emissions and reduce running costs, while not relying on a plug and socket. Even if you do have easy access to charging, hybrids are ideal stepping stones on the road to full electrification. 
Hybrids are already being used to good effect in performance cars, too – and in Formula One. Driving some of the very latest performance hybrids feels like a natural evolution for fast cars rather than a step towards the eventual full electrification of sports cars.
A number of you are asking whether you should buy a petrol car or an EV, and if there's still place for (whisper it) diesel?
The biggest barrier to EV ownership these days seems to be the UK's public charging network, which is where our list of the best chargepoint providers can come in handy.
But even still, the SMMT President George Gillespie said this week, "It is so frustrating to find broken chargers, blocked chargers, multiple apps and confusing payment schemes." It's clear that more needs to be done to increase and improve the UK's EV charging network. 
Check out the best plug-in hybrids you can buy here...