'Updated safety tests confuse the millions of people who buy used cars'
Deputy editor John McIlroy praises Euro NCAP for updating its tests, but thinks the results need to be put into context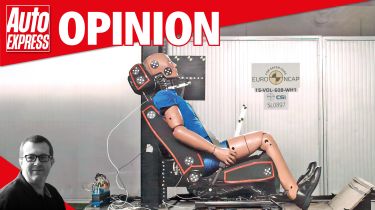 The latest batch of Euro NCAP safety test results are in – and they make interesting reading for anyone who picked up on our recent five-star review of the Dacia Jogger. The novel seven-seater has been awarded just a single star, with testers basing their results on the related Sandero Stepway, but picking up on the Jogger's lack of seatbelt sensors in the third row, and punishing the new model for its relative shortage of safety sensors.
Euro NCAP is celebrating a quarter century of pushing for gains in safety. Standards have improved immeasurably over that time, and Euro NCAP – represented in the UK by Thatcham – deserves immense praise for its efforts.
The Jogger verdict is significant, though, because it highlights one area where Euro NCAP might need to dig just a little bit deeper. Fact is, the Jogger is such a value-driven creation that a lot of its buyers won't be comparing it with a rival new car at all. The most obvious alternative to it will be a second-hand seven-seater costing roughly the same amount.
We reflected this scenario in our recent twin test of the Jogger, when we pitched it against a 2015 Kia Sorento – a car that was awarded five stars, and slightly better percentage scores for adult and child occupant protection, when it was originally tested by Euro NCAP a full eight years ago. These results have officially expired, though – and it's currently impossible to compare them with a single-star rating based on the latest 2022 standards.
The push for safety shouldn't end; we all want to be as secure as possible. But it'd be really useful if some sort of equivalence rating were available, allowing anyone weighing up a new car against an old one to get a steer on which is actually safer. Euro NCAP has done the right thing in constantly updating its test – but it also needs to put all of its results in context to avoid confusing the millions of people who buy cars that aren't brand new.
Click here to find what won when we tested the new Dacia Jogger against a used Kia Sorento...