"Paddy Hopkirk was a motorsport legend and the best of men"
Steve Fowler remembers the great Paddy Hopkirk.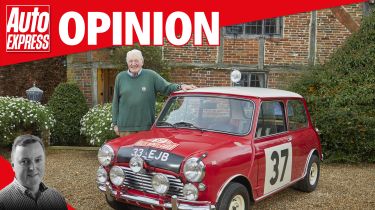 Just as we were going to press with the latest issue of our print magazine, I received the heartbreaking news that Paddy Hopkirk had passed away.
Paddy was a true friend of Auto Express. He was a contributor some years ago, and he had close ties with many of the businesses that we wrote about, from accessory makers to the car brand he was most associated with: MINI.
More than that, Paddy was my friend. He always made me laugh, and even when I last spoke to him just a few days before his passing, that trademark sense of humour was present and correct.
Paddy was also a real inspiration to me. Right until his last days he was working hard, trying to connect people for their benefit, not his, and full of ideas.
Less than two weeks ago, we inducted Paddy into the Auto Express Hall of Fame. He wasn't able to attend our ceremony himself, but I popped round to his house to record a quick video with him where, in spite of his health issues, he was able to rattle off a quick speech and take the mickey out of me at the same time. Wonderful.
Paddy's win at the Monte Carlo Rally in 1964 was the stuff of legend, triumphing in his little number-37 Mini against all odds and making himself a full-blown celebrity during the swinging sixties.
But his motorsport career continued for many years afterwards, as did his efforts in the automotive industry. He worked tirelessly with the British Racing Drivers' Club to support British motorsport, and even took on a role with IAM Roadsmart to help us all drive better.
He leaves behind a wonderful family: his wife Jenny, his children Katie, Patrick and William, and six grandchildren. And he leaves nothing but great memories here. 
Paddy, you're my hero – and, even in your eighties, a much better tennis player than me! I'm going to miss you terribly, but I'm never going to forget you.