'PSA is bucking the current sales trend thanks to strong leadership'
PSA is the defying the current market trend of negative sales and it's all down to having strong leaderships, says Steve Fowler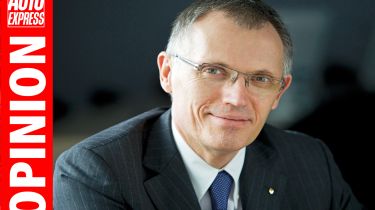 I was back at the BBC again this week; asked to comment on the many car makers releasing their financial results – and they didn't make for good reading.
Nissan took the headlines with a reported 12,500 jobs going across the world – with folk in Sunderland crossing their fingers that it won't be them (and I hope it won't be them, either). That's off the back of falling sales that resulted in a 94.5 per cent drop in net profit for the first quarter of 2019 – a dreadful stat by any stretch of the imagination.
• UK car production falls by 20% in first half of 2019
It's been a torrid time for Nissan of late, with allegations against former boss Carlos Ghosn (that he denies), reported strains in its Alliance with Renault and a product range that has dated quickly.
There was bad news for Aston Martin, dropping its sales forecast, which resulted in an alarming fall in its share price, too. Even Mercedes was talking about cutting costs as it reduced its own sales forecast. 
Back at home, there was more woe for Jaguar Land Rover (JLR), which saw an 11.6 per cent decline in its global sales to 128,615 for the last quarter. That contributed to further huge losses – a pre-tax figure of £395million, compared to a £264million loss in the same period a year ago. One slight glimmer of hope is that JLR's UK sales rose in the last quarter – up 2.6 per cent year-on-year.
Times are tough for many car makers – but not all of them. PSA posted a healthy increase in profits from its Peugeot, Citroen, DS and Vauxhall/Opel brands. This is one of the most remarkable turnarounds in recent years. PSA's troubles are a thing of the past, with the company being touted as the potential owner for any number of firms, including JLR. I wouldn't be surprised to see at least one of these takeover rumours come true.
Much of PSA's success is down to the impressive leadership of Carlos Tavares – a former Nissan executive. What that company (and, I suspect, many others) wouldn't do to have him at the helm right now.
What do you make of Steve's thoughts about PSA going strong? Let us know in the comments below...