Peugeot 2008 RX 3-door in the pipeline
A new three-door version of the Peugeot 2008 is under consideration. Exclusive pics show how the 2008 RX could look
Peugeot is thought to be working on a new three-door crossover to sit below the 2008. It would use a chopped-down version of the 2008's platform, taking the total length to around 3,900mm – about 300mm shorter than the 2008.
As our images show, the sporty SUV borrows cues from Peugeot's latest models, including the stepped lights from the 308 hatch as well as its claw-style tail-lights. However, there's no sign of the 2008's silver roof rails.
A name for the car is still being debated, but 2008 RX and 1008 have reportedly both been considered. Engines will be borrowed from the 208 and 2008 families, including the 1.0-litre VTi, which kicks off with 68bhp.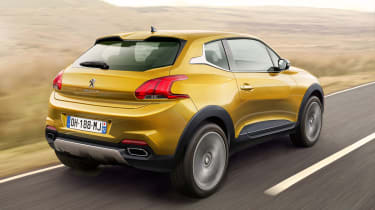 A three-cylinder turbo will also be offered. The new crossover is due to go on sale in summer 2016, and should undercut the 2008 by nearly £1,000, which will take the starting price to around £12,000.
Its launch will form part of a new Peugeot push on SUV models, which will include an all-new 3008 that features more recognisable off-road styling. The brand is also considering a large 6008 model for China, which would rival premium models such as the Audi Q5.