Porsche 911 hybrid prototypes are on the road
Bosses mulling over performance-hybrid or range-focussed plug-in for new 911 hybrid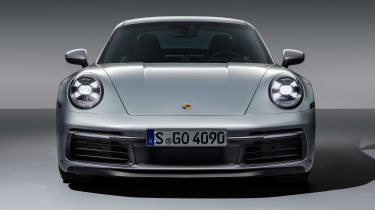 Porsche bosses have admitted that development of the upcoming 911 hybrid is well under way, and that prototypes have hit the roads ahead of its anticipated launch in 2023.
The new 992 generation of the iconic sports car has been developed to adopt hybrid technology, but Porsche's head of R&D has told Auto Express that the company is still debating whether the car will be a performance-focused hybrid or a plug-in hybrid that prioritises electric range. 
• Best sports cars to buy right now
"The platform is hybrid ready, and we have prototypes. I drive it myself; it's fun to drive," Dr. Michael Steiner, Porsche's board member for R&D told us. "One thing that should be decided on is whether it is more performance-oriented hybrid or range-orientated plug-in hybrid. This is one of the main decisions we have to take - deciding which direction such a variant of the 911 should take."
Steiner also confirmed to us that the 911 hybrid he had driven was a performance-focused prototype. 
Auto Express understands there's a passionate debate in play among Porsche engineers and decision-makers surrounding the creation of a top-flight 911 hybrid. The sports car is a precious commodity to Porsche, so it comes under the biggest scrutiny of all in terms of future development.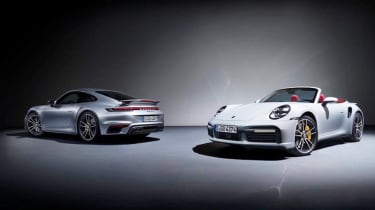 Porsche insiders say the lessons learned from the 918 Spyder and Cayenne E-Hybrid projects will help them to maintain the 911's agility. But engineers are not currently happy with the weight and performance today's batteries would bring, hence the delay in developing such a model.
"It's also once again to do with weight. The more range you would like, the more weight you have to add, but if you are only looking for performance you could have a really small battery that boosts the car and regenerates under braking," Steiner added. 
In certain dynamic respects, hybrid power can be used as a plus, say the firm's hybrid engineers, with four-wheel-drive e-power adding not just traction but also handling flexibility to the 911's dynamic qualities.
By 2025 Porsche anticipates its global sales will be 25 per cent pure EV, 25 per cent hybrid and 50 per cent conventional power. But sales of the latest Panamera have been 75 per cent hybrid in the UK lately, so Porsche has the flexibility to easily alter those percentages, our source claims, as and when the tide continues to turn in favour of EVs and hybrids.
Are you looking forward to a hybrid Porsche 911? Let us know in the comments below...