Porsche 911 GT2 RS sets new Nurburgring production car lap record
Porsche has laid down the fastest ever lap time for a production car around the Nordschleife, with a Manthey Racing 911 GT2 RS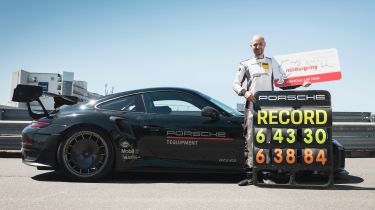 Porsche has broken the production car lap record around the Nurburgring Nordschleife, using a 991-generation 911 GT2 RS fitted with the Manthey Performance Kit. The record was previously held by the Mercedes-AMG GT Black Series, which lapped the 12.8-mile circuit in a staggering 6:48.047. For reference, the Porsche 918 Spyder - which remains the most powerful car to ever come from Stuttgart - set a time of 6:57.
The GT2 RS, driven by Porsche development driver and racer Lars Kern, pipped the AMG with a time of 6:43.300 - a slender margin on such a long circuit. The car was fitted with a set of track-focused - but road-legal - Michelin Pilot Sport Cup 2 R tyres, along with the Performance Kit from Manthey Racing.
Manthey Racing is a Porsche-owned motorsports team that competes using Porsche GTE and GT3 racers, and their racing know-how has been put to use to create the Performance Kit for the GT2 RS. Power remains unchanged - perhaps unsurprisingly when the standard GT2 RS produces 691bhp - but a range of chassis tweaks and aero modifications aim to give the car even more cornering potential on track.
Extra flaps on the front spoiler give the GT2 RS more front-end bite at speed, while a modified underbody and new rear wing aim to keep the rear in check, too. This was a critical concern when developing the kit - Manthey wanted to give the driver more confidence when committing during the entry phase of the corner, where the 911 is inherently on the tricky side. This is also helped by a new suspension setup, comprising specially-tuned coilovers at each corner, featuring adjustable dampers.
The kit also includes racing brake pads and steel-encased brake lines for optimum braking performance, as well as magnesium wheels that shed 11.4kg of unsprung mass. According to Lars Kern, the effect of these modifications is profound: "The 911 GT2 RS sticks to the track like glue with the Manthey Performance Kit – you feel as if you're in a racing car, especially on faster corners. It is truly breathtaking how the car puts its 700 PS down, and how incredibly well it brakes while always remaining easy to control," he said.
Since Manthey is a partner of Porsche, the Performance kit can be ordered from official Porsche Centres, and will soon be available to GT2 RS owners in the UK.
Click here for our list of the fastest cars ever to lap the Nurburgring...