Porsche 911 GT3 vs Aston Martin V12 Vantage S video track battle
We test the new 991-generation Porsche 911 GT3 against the Aston Martin V12 Vantage S on track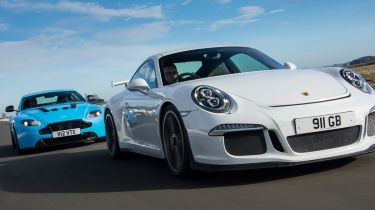 There are few things more evocative than a V12 sports car, but they are becoming rarer and rarer. Fortunately, Aston Martin has stayed true to its heritage and still makes 12-cylinder cars.
The fastest one is the Aston Martin V12 Vantage S, which is now fitted with a new Sportshift gearbox and adaptive damping for the first time. The engine's been tuned as well- and it's the fastest production car Aston has ever made.
But how does it fare against arguably the most focused track-based sports car money can buy: the Porsche 911 GT3?
To find out we took the new 991 GT3 to take on the Aston Martin in an Auto Express video track battle.
Now into its 3rd generation ever since its launch in 1999, the GT3 has been the benchmark for handling precision. The new 991 generation has 469bhp and 440Nm or torque from its 3.8-litre flat-six engine. For the first time it comes equipped with a PDK dual-clutch gearbox.
The Aston Martin V12 Vantage S squeezes Aston's biggest engine into their smallest and most focused sports car. With 565bhp and 620 Nm of torque, the V12 produces more power than the Porsche, but the Aston weighs 235kg more than the lightweight 911 - and for the first time, the V12 comes equipped with Aston's Sportshift automated manual gearbox.
With soaking wet tarmac and near-freezing temperatures the cars faced the toughest of challenges - but which one came out on top?
Well, the new 911 GT3 exceeded our expectations. The engine is astonishing, the chassis is equally capable and the PDK gearbox has been improved and it's perfectly suited to this type of car.
The Aston is great too - the V12 engine is packed with character and it has a playful chassis. There's also no doubting how stunning it looks, but against the stopwatch in wet conditions, the Porsche was 1.5 seconds a lap quicker - and in our dry practice laps it was a full 4 seconds faster than the Aston Martin.
There really isn't any loser here. We're glad that both of these sports cars exist and it's been a privilege to drive them.