Porsche 911 Targa video review
The Targa has been part of the Porsche 911 family since 1965, but is relatively unloved. Can this new version change perceptions?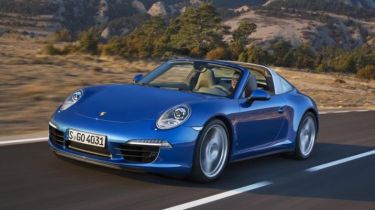 Out of all the Porsche 911 models, arguably the Targa is the most unloved. However, with the latest 991 model, Porsche has looked back to the 1965 original for inspiration.
Unlike the big sunroof on 993, 996 and 997 model Porsche 911 Targas, the latest incarnation has a stylish roll-over hoop and rear wrap-around windscreen like the original car which came out almost 50 years ago. Back then, though, you'd have to take the roof off yourself and find somewhere to store it.
Unsurprisingly, Porsche has found a slightly more modern solution for its £100,000 sports car, and it folds down nearly above the engine.
It's a good point to question where the Targa fits into the current 911 family, especially as there's already a Cabriolet version. However, it's around £600 cheaper than the soft-top, but £8,000 more expensive than the 911 Coupe. What's more, it's only available in 4 or 4S guise, meaning rear-wheel drive is out of the question.
The Porsche 911 Targa is 110kg heavier than the Coupe and 40kg more than the Cabriolet. The car we're testing, the 4 with a PDK SportChrono Plus gearbox, has a 0-62mph time of 4.8 seconds.
A minor criticism of the Porsche 911 Targa is that you can't get the roof down while on the move. What's more, given its 110kg extra over the Coupe, the handling has lost that final sharpness that you'd expect from a 911. However, Porsche knows this isn't the car that people who buy a performance orientated 911 will go for, so it's more of a comfortable relaxed cruiser.
The Porsche 911 Targa doesn't fill a gap in the range, it's more of a tradition for the brand but now, this is a tradition that works better than ever before.
The question is though, is is the Targa better than a Porsche 911 Cabriolet? The answer comes down to personal preference, but for what it's worth, which ever one you choose will guarantee you a great soft-top sports car.