Porsche Panamera S Hybrid - £30k+: Best cheap fuel efficient cars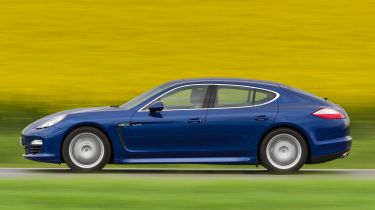 We found: S Hybrid (11-reg/19k)Price new: £86,476 Now: £43,500Engine: 3.0-litre V6 hybrid, 375bhp Economy: 41.5mpgCO2/tax: 159g/km/£180 Euro NCAP: N/A
Before the new generation of plug-in hybrids, Porsche dabbled in more straightforward petrol/electric models. Even without the latest cutting-edge technology, the Panamera's 159g/km CO2 emissions and 41.5mpg efficiency made it more frugal than the diesel version. 
• Porsche Panamea S E-hybrid 2013 review
It was faster, too, claiming 0-62mph in just six seconds. In electric mode, the Porsche could also cover just over a mile at speeds of up to 53mph. Elsewhere, the Hybrid is standard Panamera, with agile handling, a posh interior and hatchback versatility, let down only by grabby brakes.
Best cheap fuel efficient cars
• Fiat Panda• Skoda Fabia• Renault Twizy• Toyota Prius• VW Golf BlueMotion• Vauxhall Ampera• Suzuki SX4 S-Cross• Audi A6• Lexus RX• Porsche Panamera