Vredestein Wintrac Pro review
The Wintrac Pro was at its weakest in the wet, where lacked the balance of its rivals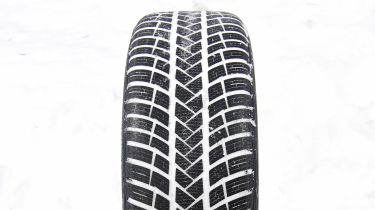 The Wintrac Pro is starting to show its age because we first tested it in 2019. It finished last in the two snow tests but only a few percentage points behind our overall winner and close to the best. In the wet and dry the gap was bigger, though.
It was weakest in the wet, where it lacked the balance of rivals, with a rear that moved a little too much for comfort off the throttle. It also struggled in the tight sections of the handling track, with a long wait on the throttle for the front to grip. Once it had hooked up, care was needed with the throttle because it was easy to lose traction.
It was better in the dry, where it was close to the pace and had a decent handling balance. It is also one to consider if cabin noise is a priority.
We say…
Dutch producer's five-year-old design is struggling to stay with much newer rivals who have raised the performance bar.
Blackcircles.com says…
A slightly lesser-known tyre, but the reviews are positive. They particularly focus on the tyre's performance in the wet and give a score of 4.5 out of 5.
| | | |
| --- | --- | --- |
| Vredestein Wintrac Pro |   |   |
| Overall | 96.8% |   |
| Price | £115.20 |   |
| Snow braking | 98.1% | 6th |
| Snow traction | 95.8% | 7th |
| Straight aquaplaning | 91.7% | 7th |
| Curved aquaplaning | 79.2% | 7th |
| Wet braking | 90.8% | 7th |
| Wet handling | 96% | 7th |
| Wet circle | 96% | 7th |
| Dry braking | 97.6% | =5th |
| Dry handling | 99% | =4th |
| Rolling resistance | 97.5% | 3rd |
| Cabin noise | 100% | =1st |