Renault van technology explained (sponsored)
The latest tech from Renault's passenger cars is available across its van range. Here's a guide to what it is and what it does…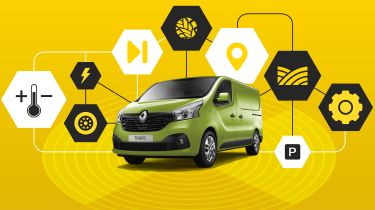 The Renault van range is designed to help your business succeed, and each model includes a raft of technology to make your everyday working life easier, more efficient and safer. Here we look at some of the highlights across the Renault van line-up. 
R-LINK
Every business needs to be connected, and with the optional R-LINK infotainment system in the Renault Kangoo, Renault Trafic and Renault Master vans, you can easily stay in touch. This multimedia tablet in the dashboard offers a wide range of downloadable apps, from Email to Renault R-LINK Tweet1, to help you keep in contact with your customers.
Simply pull over, and with a few taps on the intuitive touchscreen you can be instantly up to date. It also includes voice control, so you can use many of the apps without taking your hands off the wheel. There's even an eco coaching function, which provides tips on how to improve your driving efficiency, boosting fuel economy and therefore reducing owner costs.
Android Auto
Better still, if you own an Android smartphone, the R-LINK screen is now compatible with Android Auto. Connect your phone, and you can see a simplified version of its screen on the central display, giving you quick and easy access to functions like music and Google Maps, plus – crucially for business users – contacts in your phone book.
The buttons are much bigger than on your mobile, to make the set-up more simple to use on the move, but as an added bonus, Google's voice recognition software also allows you to take control of a number of commands without moving your hands from the steering wheel. So if you need to make a hands-free call via Bluetooth on your way to your next job, it couldn't be easier; just ask the system to dial a name from your phone's contacts. 
TomTom® sat-nav
There's no chance of getting lost en route, either, thanks to the TomTom® navigation system built into the R-LINK set-up. Clear mapping ensures you always take the right turn, plus LIVE services such as TomTom® Traffic direct you around any jams to keep you on schedule. 
In the Renault Kangoo and Renault Trafic vans, maps are displayed on the tablet-style screen in the dashboard, while the optional sat-nav screen in the Renault Master sits at the top of the windscreen. Either way, instructions are clear and accurate to make sure you reach your destination on time. 
Parking sensors
Manoeuvring in a van is never easy; blind spots are the curse of every commercial vehicle driver. But Renault offers an array of technology to help prevent low-speed bumps and scrapes. On the Renault F1® Team Kangoo, Trafic and Master, parking sensors beep in increasing frequency as you get closer to an obstacle, while the Trafic and Master are also available with optional parking cameras to guide you into a gap. These relay images to the rear-view mirror or, if fitted, the sat-nav display in the Trafic, or a neat screen built into the sun visor on the Master. 
dCi engine tech
Efficiency is at the heart of every modern business, and that's why Renault's range of dCi diesel engines plays such a central role in so many people's working lives. The line-up has evolved over the years to deliver a winning combination of flexibility, low running costs and muscular performance when you need it. 
Partnership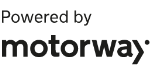 Need to sell your car?
Find your best offer from over 5,000+ dealers. It's that easy.
Renault's more economical ENERGY dCi diesels are available in the Renault Kangoo, Renault Trafic and Renault Master vans and offer a range of power outputs to suit different needs featuring variable-geometry turbocharging or twin-turbocharging technology to deliver strong grunt. To maximise fuel economy and keep a lid on CO2 emissions, there's also Stop & Start, which cuts out the engine when the van comes to a halt, and Energy Smart Management; this is a regenerative braking system borrowed from the world of the Renault F1® Team that recovers energy usually lost under deceleration.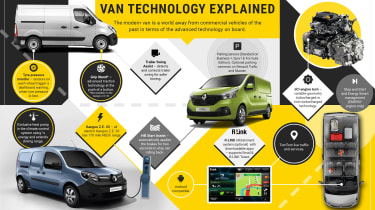 Click here or on the image above for a larger version of the infographic.
Kangoo Z.E.
For the ultimate in commercial vehicle efficiency, there's the Renault Kangoo Z.E. 33. This is the most successful all-electric van in Europe, and the latest version runs smoothly and silently off a 33kWh lithium-ion battery, providing 170-miles of NEDC range2 that equates to around 124 miles of real-world driving with zero tailpipe emissions. It can be fully charged from empty in as little as six hours using a standard 7Kw charger, yet it offers just as much load capacity as the regular diesel Kangoo.
To maximise the driving range of the Kangoo Z.E. 33, Renault has borrowed the Kinetic Energy Recovery System (KERS) from its Renault Sport Formula One Team™, ensuring energy isn't lost when you take your foot off the accelerator. An Eco mode also modifies throttle response to deliver up to 10 per cent more range. And when you're away from your electric van, you can check how much charge is remaining – and even set it to power up at off-peak electricity rates when it's plugged in – by logging in to the 'My Z.E. Inter@ctive' service. Plus, the Pre Heating function lets you warm the interior remotely while the Kangoo Z.E. is still charging, saving you energy, range and frost bitten fingers.
Grip Xtend
This advanced traction technology is standard across the Renault vans range, and is designed to help drivers cope with loose surfaces such as mud, sand or snow. Push a button on the dashboard, and when the set-up detects that one of the driven wheels is spinning freely, but the others are not turning, it allows that wheel to carry on rotating until it can grip properly on a firmer surface. This enables the van to clear the snow or grit beneath it so that the driver can then continue on their journey safely.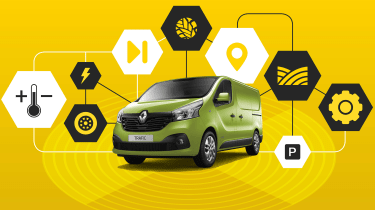 Safety features 
Hill Start Assist
Activated when the driver comes to a complete stop on a hill of 3% or more and fully depresses the brake, the vehicle is held in place automatically for two seconds once the drive has remove their foot from the brake pedal. This allows the driver plenty of time to move their foot onto the throttle without the van rolling back. 
Trailer Swing Assist
This invaluable function ensures you're always in control when towing in your Renault Trafic or Renault Master by detecting and correcting trailer swing. Trailer Swing Assist uses the van's stability control system to brake individual wheels and stabilise the trailer before it swings out of control. 
Lane Departure Warning
Designed for the largest van in the Renault range, this uses a camera mounted at the top of the Renault Master's windscreen to detect when the driver strays from the white lines of their lane without indicating, and warns the driver through the speakers using an audio alert.
Tyre pressure monitor
Sensors within the valves in each wheel detect if pressure is lost in the tyre, and flash up a warning on the dashboard. The optional system can alert you to a puncture quickly so you can stop safely and don't get stranded with a flat tyre. It can also save you money by ensuring your van's tyres are at the optimum pressures at all times so you get maximum fuel efficiency.
1. Extra charges may apply
2. 'Range will vary on various factors including driving conditions, driving style, temperature and topography but is likely to be between 85 miles in winter conditions and 124 miles in temperate conditions with the Z.E. 33 battery'
Take our quick survey for a chance to win 1 of 10 £100 vouchers for the brand of your choice