Renault appoints Luca de Meo as new CEO
Luca de Meo takes over as Renault boss after leaving SEAT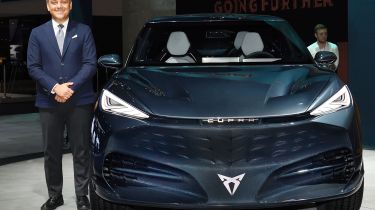 Luca de Meo has been officially appointed as the chief executive officer at Renault, the company has confirmed.
De Meo stepped down as the CEO of SEAT at the beginning of the year, fueling rumors about his suspected move to the French company. 
The italian-born automotive executive will take up office at Renault on 1 July. During that time Renualt has appointed Mrs. Clotilde Delbos as Interim CEO, who will then support de Meo as deputy from July. 
Commenting on the announcement, Mr. Jean-Dominique Senard, Chairman of the Board of Directors at Renault, said: "I am delighted with this new governance, which marks a decisive step for the Group and for the Alliance. Luca de Meo is a great strategist and visionary of a rapidly changing automotive world. His expertise but also his passion for cars make him a real asset for the Group."
The appointment marks the first major sign of progress from Renault since Carlos Ghosn was removed from his position at the company following his arrest on suspicion of financial misconduct.  
Luca de Meo steps down as SEAT boss
The boss of SEAT, Luca de Meo, has stepped down from his position as CEO at his own request, the Spanish firm has confirmed. 
De Meo was appointed CEO at SEAT in November 2015 following a six-year stint as Marketing Director of VW. SEAT's vice-president for Finance, Carsten Isensee will assume the role until further notice, the company has confirmed.
An official statement said: "SEAT informs that, on his own request and in common agreement with the Volkswagen Group, Luca de Meo is stepping down from his position as President of SEAT. Luca de Meo will remain a member of the Group until further notice.
De Meo has overseen a dramatic turnaround in the Spanish firm's fortunes during his tenure, launching the brand into the SUV market, first with the Ateca and then followed by the smaller Arona and the new seven-seat Tarraco. De Meo also oversaw the firm's move to make Cupra as its own standalone brand.
SEAT sold almost 69,000 cars in the UK last year, a 9.44 per cent increase in a market that was down by almost 3 per cent overall. 
What do you think this will mean for the future of SEAT? Let us know your thoughts in the comments below...