New Renault Kwid to signal tiny breed of crossover
Renault plans to follow up its Kwid concept with a production version. Our exclusive images show how it could look
With the crossover boom showing no signs of slowing down, Renault is planning a new compact model based on the Kwid concept.
Renault has already signalled its intentions to produce a crossover smaller than the Clio-based Captur with the Kwid concept it displayed at the New Delhi Motor Show earlier this year.
That car was designed to show Renault's commitment to developing markets. The concept measured in at just 3.6 metres long, but we're expecting the production car to grow to around four metres – which is still 150mm shorter than the Captur.
The Renault Captur used the same name as the concept that previewed it, and Renault is expected to stick with the Kwid name, although the styling will be noticeably toned down, as revealed in our exclusive image.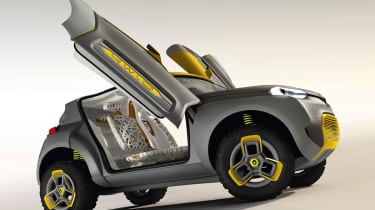 The curvaceous body panels and wide-mouth grille are all part of Renault's latest design-language, while the black plastic cladding and rugged underbody protection help create the muscular look that buyers in this class are after. The raised ride height and a certain amount of personalisation – like the contrasting roof colours – should also appeal.
Power is set to come from a range of small capacity engines, which could include the three-cylinder units set for the latest Twingo. That means 900cc TCe units, developing 89bhp and 69bhp. Key to the Kwid's success will be keeping running costs down, and these small engines are the ideal way to do it.
Expect prices to be kept down, too, with a starting figure of around £11,500 when the Kwid is revealed in 2016, undercutting the £14,495 Captur.
Does the UK market need another smaller breed of crossover SUV? Tell us what you think in the comments section below and get our view on the best 4x4s to buy here...