Small Company Car of the Year 2022: Renault Megane E-Tech Electric
The Renault Megane E-Tech Electric is the 2022 Auto Express Small Company Car of the Year, with the Cupra Born and Mercedes A 250 e commended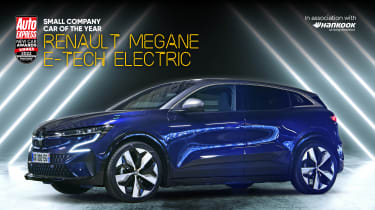 1/7
In association with

Renault was an EV pioneer when it launched its Zoe city car a decade ago, so it was a surprise the firm took so long to add to its all-electric line-up. But the good news is that the all-new Mégane E-Tech Electric has been worth the wait. Its blend of engaging driving dynamics, cutting-edge tech and usability take it straight to the top step of the podium.
Like all EVs, the Renault is a very attractive choice for business users, thanks to its rock-bottom Benefit-in-Kind tax bills. The interior is a real highlight, with a forward-thinking approach and some stylish trim choices, plus a smart-looking and intuitive portrait-style 12-inch touchscreen that features a Google-based operating system, impressive voice control and all the latest connectivity.
Better still, thanks to the Mégane's refinement, you'll always arrive at meetings feeling fresh and relaxed. Stress levels are further lowered by the level-two autonomous tech that can combine adaptive cruise and lane-keep assist to make long motorway treks safer and less tiring. Go for the larger 60kWh battery option and there's a claimed range of 292 miles, so range anxiety won't be an issue, either.
Like all the best company cars, the Renault effortlessly mixes business with pleasure. The 217bhp electric motor delivers zippy, hot hatch-baiting performance, while the front-wheel-drive Mégane's agile and invigorating handling will encourage you to dive off the motorway and take the long way home; it's one of the most dynamic EVs on sale. The French machine also slips effortlessly into family life, with a fair amount of space inside the cabin and a generous 440-litre boot. Put simply, user-choosers have never had it so good.
Our choice
Renault Megane equilibre EV60 (£35,995)
The Mégane range kicks off with the equilibre trim, which is priced from £35,995. Kit levels are very generous; 130kW rapid charging, 18-inch alloy wheels and heated front seats are all standard. In-car tech is catered for by a 12.3-inch digital driver's display and a nine-inch touchscreen set-up.
Commended
It's a second podium finish for the Spanish EV, with its mix of fun driving dynamics and wallet-friendly running costs. Like all EV models, BiK is just two per cent, meaning an entry-level Born V1 will cost as little as £128 a year in tax. Go for the larger 77kWh battery and the claimed range is 340 miles from a full charge.
Mercedes A 250 e
Image is everything in business, and few badges have as much kudos as Mercedes'. The A-Class looks great, its cabin oozes upmarket appeal and it has the brilliant MBUX infotainment. Its plug-in powertrain has a claimed electric range of up to 45 miles, for an eight-per cent BiK rating.
The 2022 New Car Awards are brought to you in association with Hankook tyres
New Car Awards 2022: the winners
Special edition of Auto Express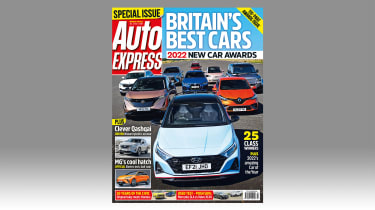 For the full experience, make sure you pick up a copy of our special 2022 New Car Awards collectors' edition of the Auto Express magazine, which is available in shops now.
You can buy individual issues of Auto Express or subscribe for even bigger discounts on the print magazine cover price. You can currently subscribe or download individual issues of our digital edition direct to your desktop, phone or tablet as well.
Stay right up to date with the latest from the world of cars in 2022 and beyond, follow Auto Express on social media...