Mid-size Premium SUV of the Year 2022: Lexus NX
The Lexus NX is the Auto Express 2022 Mid-size Premium SUV of the Year with the BMW X3 and Jaguar F-Pace commended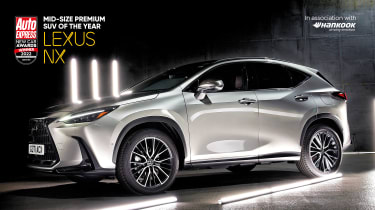 1/7
In association with

Lexus has long traded off its impeccable reputation for comfort, build quality and a dealer network that really cares about its customers, and the latest NX is a model that really reflects those enviable plaudits.
The company is no stranger to electrification, having pioneered hybrid power for decades, but the NX is Lexus's first plug-in hybrid. In 450h+ form, the upmarket SUV offers around 40 miles of supremely refined zero-emissions running. Even when the 2.5-litre petrol engine kicks in, playing a supporting role to the 18.1kWh battery and pair of electric motors, the Lexus remains quiet and delivers more performance than you might imagine, with a total of 302bhp.
If you're not yet ready for plug-in power, Lexus also offers its latest NX in 'self-charging' 350h form, saving a little cash but still delivering the refined ride comfort, smooth running and incredible build quality the brand has become known for. While it doesn't deliver the PHEV's claims of more than 250mpg (expect around 60mpg in daily use, more if you maximise electric running) and CO2 emissions from as little as 21g/km, it's more affordable and still offers strong efficiency.
One area where Lexus has really improved the NX, however, is its infotainment, which offers a lesson in slick simplicity. The basic 9.8-inch system is good, and the optional 14-inch panel is even better, with crisp graphics and the latest connectivity. The native system is great to use – and you couldn't always say that about a Lexus.
It's just one area of many where Lexus has really pushed the NX's ability, underpinned by a platform that delivers what premium SUV buyers want on many fronts – and overtaking many of its premium German rivals in the process.
Our choice
Lexus NX 450h+ Premium Pack w/Lexus Link Pro (£51,900)
If you can stretch to the brilliant PHEV, it's worth the extra cash over the standard NX 350h. We'd choose the Premium Pack model and add the optional 14-inch Lexus Link Pro touchscreen. With that option ticked, the PCP figure comes to £774 per month on a three-year agreement with a £5,000 deposit.
Commended
With mild-hybrid, plug-in hybrid and full-electric models on offer – not to mention an X3 M performance variant – BMW's mid-size premium SUV is still one of the best in the business. The X3 offers practicality, high quality and great driving dynamics that define it as one of the best all-round offerings in this class. A recent facelift has kept it looking fresh, while the on-board tech and infotainment are brilliant; this is BMW doing what it does best with an incredibly convincing upmarket SUV.
Plug-in power means the F-Pace can cut it with the most modern electrified competitors, and despite the extra weight, the hybrid is still one of the best-driving mid-size premium SUVs. A facelift introduced new infotainment that delivers what we expect from a car in this class, while petrol, diesel and hot SVR versions mean there's plenty of choice. As ever, practicality is impressive, and as Jaguar looks towards an all-electric future, the F-Pace reminds us that its current cars are still appealing.
The 2022 New Car Awards are brought to you in association with Hankook tyres
New Car Awards 2022: the winners
Special edition of Auto Express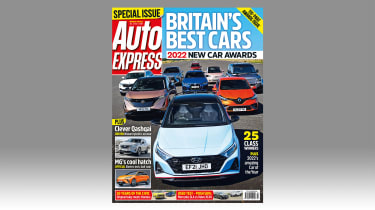 For the full experience, make sure you pick up a copy of our special 2022 New Car Awards collectors' edition of the Auto Express magazine, which is available in shops now.
You can buy individual issues of Auto Express or subscribe for even bigger discounts on the print magazine cover price. You can currently subscribe or download individual issues of our digital edition direct to your desktop, phone or tablet as well.
Stay right up to date with the latest from the world of cars in 2022 and beyond, follow Auto Express on social media...