Renault ZOE vs rivals
Is Renault's electric ZOE a better bet than its EV and hybrid rivals?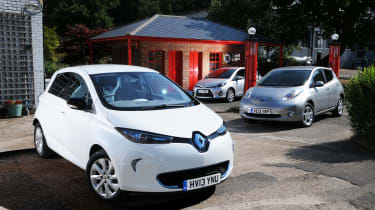 Electric cars are a long way from making fuel stations a thing of the past, but could the new Renault ZOE be the most convincing zero-emissions vehicle yet?
Renault has designed it as an electric car, rather than convert an existing model – and says it sets new standards for range and driving dynamics. It's affordable, too, at £13,995, plus £70 monthly battery rental.
To find out if it's a game-changer, we've put the £15,195 Dynamique Zen up against the Nissan Leaf – the current electric car benchmark – which has been updated and had its prices slashed. You can now get behind the wheel of a Leaf for just £15,990, with a similar £70 per month battery rental. 
But is either better than the Toyota Yaris Hybrid? It can run in electric mode, yet its petrol-electric powertrain eliminates range anxiety. Plus, its CO2 emissions of 79g/km are the lowest of any regular supermini.
Verdict
Every verdict for an electric car test comes with an obvious caveat: to consider one, your motoring needs have to fit into a very narrow set of specific circumstances, in particular short trips and access to charging facilities.
As that's the case, then you might logically expect the Toyota Yaris Hybrid to take victory. Unfortunately for Toyota, there are too many compromises in terms of dynamics, quality and refinement for the Yaris to shine. Plus, if an EV doesn't suit your needs, then there are plenty of diesel or petrol superminis out there that are far better to drive, cheaper and nearly as economical as the Yaris.
So which of our EVs comes out on top? The revised Leaf has a lot going for it, but it only gets close to the Renault's price in Visia trim, and this model is missing kit and key technical upgrades. The ZOE is better looking, nicer to drive and is cheaper to buy – so it wins this test.
1st. Renault Zoe