Rolls-Royce Phantom VII (2003-2012)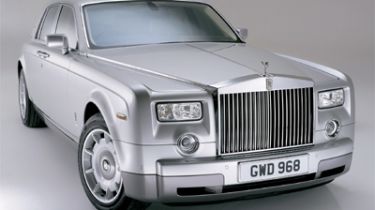 If there were ever a globally recognised display of wealth then Rolls Royce is it. It may have floundered over the years but under BMW's ownership there's no doubt about the marque's intent - Rolls Royce is back. The all-new car, the Phantom, takes the fight to rival ber-limos like the Maybach 57/62 and forthcoming Bentleys, as well as boats, helicopters and property too. Controversially styled, the Phantom has an undeniable presence, the long bonnet and vast cabin area making it an imposing vehicle, it taking quite some time to get used to its proportions behind the wheel. But in a Rolls-Royce you pay somebody to do that don't you? Apparently not, only around 10% of owners choosing to be driven rather than drive. When they do they'll find a high driving position that gives you a commanding view, the seats pampering driver and front passenger alike, a classically appointed dashboard with lots of exquisitely finished chrome, leather and wood.
Power for the Phantom comes from a 6.75-litre V12, tuned for torque rather than outright power. It's quiet, as you'd expect, and is able to provide impressive performance despite the car's obvious bulk. The ride is controlled by air suspension, it cosseting the occupants from the worst road surfaces, it rolling slightly round corners, keeping comfort levels high. That's where the Rolls excels, comfort, it really is a tremendously relaxing machine both to be driven in and drive (once you get used to its size). At £250,000 it's not cheap, especially considering the lack of executive goodies that grace the cabins of its rivals. The Rolls is above all that though, it's a classy machine that's worth its money without having convince buyers, in the rarefied realm where buyers of such cars exist, the Rolls-Royce will undoubtedly appeal.
Engines, performance and drive
0
MPG, CO2 and Running Costs
0
Interior, design and technology
0
Practicality, comfort and boot space
0
Next Steps
Which Is Best
Cheapest
Name

4dr Auto

Gearbox type

Auto

Price

£374,400
Most Economical
Name

4dr Auto

Gearbox type

Auto

Price

£374,400
Fastest
Name

4dr Auto

Gearbox type

Auto

Price

£374,400