Four-seat cabriolets tested
With summer on its way, we rate five very different four-seater cabrios that offer top-down excitement- no matter what your budget!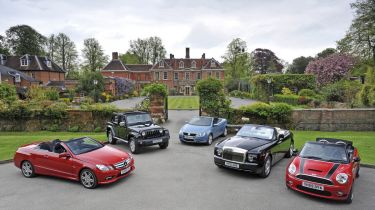 WHEN the sun is out, there's nothing better than driving a cabrio. But wind-in-the-hair thrills are best enjoyed with friends, which is why four-seat cars are so popular. Mercedes' latest E-Class Cabriolet aims to build on the success of the Coupé and saloon. A fine array of kit makes it an appealing buy. But is it the must-have drop-top of 2010? We lined it up with four alternatives, stretching across all price brackets, to find out.
VW's Eos is our favourite family model, and with a clever 1.4-litre TSI petrol engine the new BlueMotion Technology version promises impressive performance and economy. At the other end of the scale is MINI's Cooper S Convertible. Its eco credentials are boosted by stop-start, but its real focus is on power, courtesy of a 184bhp 1.6 petrol turbo.
Need something more rugged? Don't forget Jeep's Wrangler Ultimate. It has a 2.8-litre diesel, 4WD and removable hard-top. And it's the only car here with four doors and five seats.
Rather join the landed gentry? There is no better way than with a Rolls-Royce. Its Phantom Drophead Coupé is as exclusive as they come, but what does £320,000-plus get you? A car that tips the scales at nearly three tonnes with a powerful 6.75-litre V12 and a hand-crafted interior is the answer...
Verdict
WITH such a diverse selection of vehicles to choose from, we are not picking an overall winner in this test. Instead, we have awarded each of our contenders a star rating, taking everything from cost and image to practicality and space into account. The Rolls-Royce gets a full five-star score, but at its huge price you'd expect nothing less. While it doesn't feature the array of roof-down gizmos employed by the Mercedes, it delivers on its promise of exclusivity and luxury. At the other end of the scale the MINI doesn't fare quite as well. It's still fun to drive, but its cabin is cramped and it's not cheap. The new E-Class makes a solid debut, and we can't wait to try the diesels. It could give our reigning BMW champ a run for its money...
Rolls-Royce Phantom Drophead Coupe- 5 stars Mercedes E250CGI Sport- 4 starsJeep Wrangler- 3 stars VW Eos- 4 stars MINI Cooper S- 3 stars